The following article has been updated to include a statement from the American Society for the Prevention of Cruelty to Animals.
Ruby looked restless. The brown horse shifted in place, turned around, and occasionally poked her white muzzle between the red bars of her 8 by 10-foot stall on the second floor of the Clinton Park Stables. Her golf ball-sized eyes glistened and she sighed, staring out at us all the while. The Observer reached in and stroked Ruby's snout between the bars, wondering if the horse had any clue of the battle raging around her.
Since the death of Charlie, a carriage horse that collapsed on 54th Street last month, the struggle for—and against—the City's horse-drawn carriage industry has grown into an all-out war, with the Horse and Carriage Association of New York now filing formal complaints against some of the industry's biggest challengers. 
The association's biggest critics include the American Society for the Prevention of Cruelty to Animals (ASPCA) and the New Yorkers for Clean, Livable & Safe Streets (NYCLASS), which supports phasing out horse-drawn carriages. On Monday, the association filed papers against these two groups with the New York State Attorney General's Office, the Mayor's Office, the NYC Department of Investigation, and with the Inspector General of the NYC Department of Health.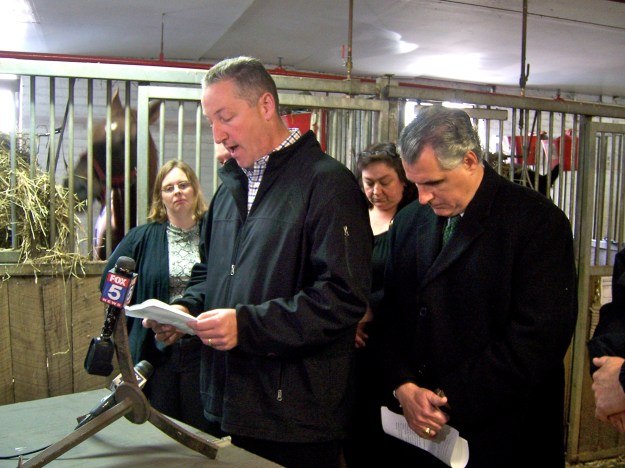 "Enough is enough," said the association's president, Stephen Malone, at a press conference at Clinton Park Stables yesterday.
The complaint includes a request for a full investigation into allegations by former ASPCA veterinarian, Dr. Pamela Corey, who said she was told to issue "misleading and unscientific statements" about Charlie's death.
Among objections against NYCLASS tactics, the complaint also asks the Attorney General to investigate what the association feels is a "glaring" conflict of interest.
"Ed Sayres is both the president and CEO of ASPCA, and the co-president of NYCLASS. In addition to subsequent use of facilities, vehicles, resources and personnel, the ASPCA gave NYCLASS $250,000 at the time of NYCLASS's founding in 2008," Mr. Malone said in a statement.
Mr. Malone explained that ASPCA's Humane Law Enforcement Division oversees and enforces laws pertaining to the horse carriage industry, as required by its NY State Charter and by NYC Administrative Code.
"In my opinion, the ASPCA is not to be trusted," Mr. Malone said.
At hoof, the fight is whether or not the city is putting stress on the horses who clomp down its streets. The Horse and Carriage association argues these horse would have no future without the industry, and it keeps New Yorkers employed. The animal rights groups counter that that is no excuse, and they point to Charlie for proof. The circumstances of his death and the information—or disinformation—that followed have only emboldened each side.
ASPCA spokeswoman Elizabeth Estroff explained in a statement that the society has no firsthand knowledge of any complaints filed against them and could not comment on the allegations. Ms. Estroff added that the ASPCA has voluntarily performed carriage enforcement for several decades.
"Remaining steadfast to this commitment, our carriage horse enforcement work has been carried out with objectivity and fairness and always within the bounds of applicable law," Ms. Estroff said in the statement. In another statement on Charlie's death and Dr. Corey's allegations, Ms. Estroff  said the ASPCA was "frankly perplexed by Dr. Pamela Corey's recent statement."
At a NYCLASS event yesterday afternoon, the Observer asked the group's executive director, Carly Marie Knudson, if they were aware of the complaint against ASPCA and NYCLASS.
"We have not received full disclosure on any of that information yet," Ms. Knudson said. Though she explained that information "just came across our desk this morning," Ms. Knudson first answered our question explaining the information NYCLASS has received was likely the "same article" the Observer read.
Back at the stable, after Mr. Malone announced the association's intent to file complaints that day, Demos Demopoulos, an executive officer of Teamsters Local 553, likened the horses to the working class he represents. "That's why they get five weeks vacation, more than I get," he said.
"In essence, this is an attack on working people, the working people of this industry," Mr. Demopoulos said. Teamsters Local 553 represents the drivers, workers, and small businessmen of the Horse and Carriage Association.
City Councilman James Gennaro, who represents the 24th district in Queens, also came to the stables support the association's announcement.
"It just seems patently unfair," Councilman Gennaro said. "If you have an institution whose mission statement is to get rid of an industry, is that really an appropriate entity to be enforcing against the carriage industry?"
Councilman Gennaro sponsored a bill, Local Law 10, requiring carriage horses to have larger stalls, five weeks of vacation per year and blankets in cold and wet weather. The bill, which passed in April 2010, also requires horses to be in the stalls from 3 a.m. to 9 a.m.
"What we wanted to do was codify what was standard practice," said Horse and Carriage Association vice president, Eva Hughes.
But despite these restrictions, animal advocates continue to unite against the industry.
At NYCLASS' event on Monday, more than 50 supporters lined up on the steps of City Hall, chanting "Hay, hay, we say neigh, horses off the streets today." At the rally,  NYCLASS celebrated 55,000 signatures collected on a petition calling for the City Council to pass Intro. 86A, which would eventually replace horse-drawn carriages with "horseless carriages": electric cars with an old-time-y vibe.
The discourse over the issue, over the carriage horses, has always been horses versus jobs, horses versus people," said Patrick Kwan, New York state director for The Human Society of the United States, at the rally. "But we are proving, once and for all, that it doesn't have to be this way."
Ms. Knudson also announced a new goal at the rally.
"Our next goal is 75,000 signatures by New Year's Day," Ms. Knudson said to cheers from the crowd lining the City Hall steps behind her. "I think we got it—maybe we can go for a hundred if we're really lucky!"
As usual, the pro-animal contingent was packing star power. Emmy-award winning actress Kathy Najimy made an appearance at the rally, where she explained she was "deeply saddened" by the carriage horses, in addition to implying all NYC tourists are, ugh, huge.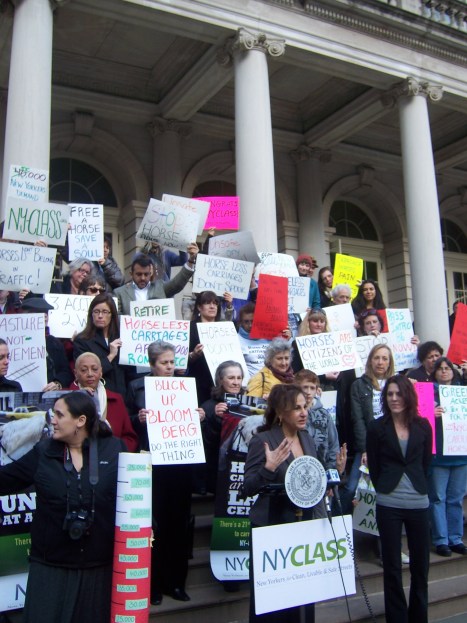 "Beautiful, gorgeous horses are not meant to be in busy, traffic-y streets pulling really heavy passengers and carriages," Ms. Najimy said.
In addition to Ms. Najimy, several politicians have also shown support for the bill, including Manhattan Borough President Scott Stringer and City Councilwoman Melissa Mark-Viverito. In addition to ultimately phasing-out horse-drawn carriages, Intro. 86A would increase working restrictions on when horses are allowed to work, as well as increase medical checks and necropsies. Intro. 86A is set to be heard in January.
Public Advocate Bill de Blasio expressed his faith in electric cars.
"I am convinced," Mr. de Blasio said. "We see electric cars being used all over the world now. There's no question we can make this technology work in New York City."
In addition to Mr. de Blasio,Councilwoman Mark-Viverito and 14 other City Council members support Intro. 86A. When asked about his colleagues's support, Councilman Gennaro said most of the Council members behind Intro. 86A all voted for the bill he sponsored in 2010.
"This law, Intro. 86A, did exist back when Local Law 10 was being debated…It was my reform bill versus the car bill," he said. "Pretty much everyone who was supporting the car bill back then ended up voting for my bill."
Two other advocacy groups, the Coalition to Ban Horse-Drawn Carriages and In Defense of Animals, also announced Monday that they sent a letter to the president of the ASPCA, Mr. Sayres, asking for him to release carriage horse industry accident reports since January 2009.
"Unfortunately, although the ASPCA's Humane Law Enforcement Division performs a  'police type' function, they are not subject to the Freedom of Information Law and are therefore not really accountable to anyone," said the coalition's president, Elizabeth Forel, in a statement.
asanders@observer.com