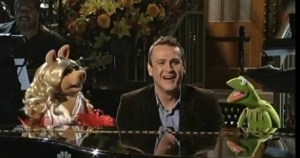 In case you were living under a rock for the past month, the new Muppets movie is coming out this weekend. And boy, have those little felt feet been hitting the pavement hard. You need to look no further than Saturday Night Live opener with the movie's star and writer, Jason Segel, for proof:

[protected-iframe id="2acd3d264482f1c598533f6f9ad37d61-35584880-53155743″ info="http://www.hulu.com/embed/jUmjgMZ40yHauViTP36gtg" width="512″ height="288″]
New York Magazine's Vulture blog chimed in hopefully:
"Seems the whole fuzzy gang still has a lot of audience appeal, as SNL posted some of its highest ratings of the season so far, with a 10 percent spike in viewers ages 18-49 compared to last week's episode, hosted by all-around class act Emma Stone."
Then they want on to mention (hint, hint) that last week's issue of their own magazine featured an all-Jim Henson/Jason Segel revue as well.
But lest NY Mag or SNL think that they had an exclusive on the comeback tour, the puppet-y cast has been making its late-nighr rounds in preparation for next week's nationwide premiere of The Muppets. You could find Animal playing drums next to Questlove on Friday night:
And that was after Jimmy Fallon conducted a whole interview with Kermit and Miss Piggy:
[protected-iframe id="0846f4bcfefc7ae0ba68ddbfe484557c-35584880-53155743″ info="http://www.hulu.com/embed/7ViEkwZ56CVQuy7fbPQlJg?shared_ad_id=69451″ width="512″ height="288″]
From where we're sitting, The Muppet's star couple have been doing a much better job whoring themselves out to the media's PR machine than Kristen Stewart and Robert Pattinson have in anticipation of Breaking Dawn.