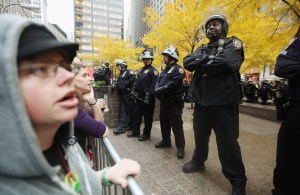 On Oct. 14, Mayor Bloomberg lost his first standoff with the Occupy Wall Street protesters. On that occasion, he threatened to evict demonstrators to give Zuccotti an early-morning, high-powered hosing. Protesters managed to battle him back with an arsenal of mops, brooms and media attention.
This time was different.
There was no 24-hour warning as the police descended in the wee hours of Tuesday morning. A protester who said his name was Casper Michaels told us the NYPD made a brief announcement via megaphone ordering Occupy Wall Street to disperse around 1:00 a.m. Police also distributed flyers on behalf of Brookfield Properties, bearing the heading "Notice of Requirement to Remove Property From Zuccotti Park" and citing health and fire hazards as their reasons for clearing the area. "That means you must remove the property now," it read.
"If you fail to immediately leave the park or in any manner interfere with efforts to remove property from the park," the notice concluded, "you will be subject to arrest."
While Brookfield cited the city as the reason for its action, Mayor Bloomberg used Brookfield as the impetus for the raid during a press conference at City Hall on Tuesday morning. "We have been in constant contact with Brookfield, and yesterday they requested that the city assist it in enforcing the no-sleeping and -camping rules in the park," Mr. Bloomberg said. He added, however, that he was the one who ultimately ordered the action.
Immediately Twitter lit up with news of the impending raid. Some of the 200 protesters who were camping out elected to exit quietly, while others chained themselves together with bike locks in an attempt to make a stand. A contingent of NYPD officers then arrived on the scene in full riot gear and their sweep of the park—while not quite as violent as the clash in Oakland—was far from peaceful. The Observer arrived at the scene at 1:20 a.m.; an hour later, civilians trying to get to the scene were being rerouted by the police.
Unlike last month, media coverage of this eviction was conspicuously absent thanks to a wide perimeter of steel barricades manned by police officers unwilling to give passage to even credentialed reporters. A writer for The New York Times and a freelancer for NPR were arrested, and a Post reporter told The Times he had been put a choke hold. Rosie Gray from The Village Voice informed an officer she was press, only to be told, "Not tonight, you're not."
Matthew Lysiak, a reporter for the Daily News, was arrested, but not before he captured footage of police throwing and manhandling protesters.
At his morning-after press conference, which was attended by many of the same reporters who were blocked from viewing the raid, we asked Mayor Bloomberg whether there had been a media blackout. "The Police Department routinely keeps members of the press off to the side when they are in the middle of a police action," he said, adding, "It's to prevent a situation from getting worse and to protect the members of the press."
Whatever the administration's reasons, it made for a frantic evening as reporters struggled to learn what was going on. Stuck behind metal barricades, The Observer had to settle for secondhand accounts of tents being trashed, cops releasing clouds of pepper spray and protesters being violently dragged from the park.
"Everybody was sprayed," a watery-eyed young woman named Allegra Frierson told us. "It was just a chemical sprayed in the air. It was wafting through the crowd. They were tackling people, dragging people out by their hands and feet. It was horrible."