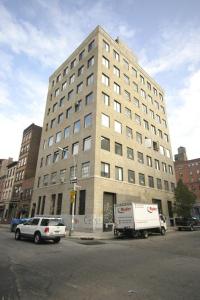 "I am a 'super' super," said Mr. Kovacsezics. "I busted my ass for that woman."
He was wearing a soot-gray prison outfit inside a visitor's room at the George Motchan Detention Center at Rikers Island, and he was seething. Mr. Kovacsezics, who is in his early 60s, has been in some form of incarceration since being arrested in June—first at the Manhattan Detention Complex and now at Rikers.
While sitting at a long conference table alongside tattooed young men, he looked every bit as adorable and harmless as his former advocates claimed. Between the Hungarian accent, that gentle face and the dwarfish frame, he could have easily played a lovable janitor in a Garry Marshall sitcom.
Except the crimes Mr. Kovacsezics is accused of are hardly sitcom fodder.
He is currently awaiting trial for three counts of grand larceny, one for stealing $50,000 from the apartment of a prominent doctor at 427 Washington Street, the other for absconding with 13 pieces of jewelry from a woman—named "Agnes," according to the indictment—which he had agreed to sell on consignment.
Perhaps his most egregious offense, at least in the eyes of Ms. West, was his alleged theft of her Aunt Shirley's life's work in paintings, nearly 500 in all.
He had been hired to store and catalogue all of Shirley West's works while cleaning out her ground-floor studio. Instead, according to authorities, on Oct. 31, 2010, he vanished, along with the paintings and jewelry.
Mr. Kovacsezics resurfaced this past June on an Germany-bound Lufthansa plane at JFK Airport. Before the plane could take off, he was led away in handcuffs by the NYPD and Port Authority police. The missing jewelry and art work have not been recovered.
After pleading not guilty to all three charges, Mr. Kovacsezics was emphatic about his innocence, furious at those whom he once considered friends, and unwavering about his good-natured character.
"If they think I stole from them, why don't they come here and ask me about it?" he said. "I am an honest man. Ask anyone."