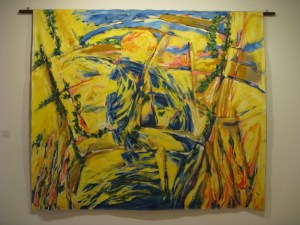 Shirley West was raised in Breckenridge, Texas, the daughter of oil man Carey Keene West, who founded the Chemical Process Company (which would become BJ Service Company, which would then be bought for $5.5 billion by Baker Hughes in 2009).
A talented painter, musician and sculptor, Shirley studied with German Expressionist Max Beckmann until his death in 1950. After completing her studies, she had her first solo show of drawings and paintings at the Museum of Modern Art in Miami in 1961.
In 1977, Shirley purchased 427 Washington Street and began using a ground-floor space as her artist's studio while living on the eighth floor. But over time, her health deteriorated, the result of a degenerative nerve and spinal disorder that left her confined to a motorized wheelchair.
In 2005, Mr. Kovacsezics suffered a massive heart attack and had to have pacemaker-implant surgery at NYU Langone Medical Hospital, he said. He spent two years recovering until he met Shirley West.
He built ramps to the building's service elevator and over a step in her kitchen so that Shirley could easily access both, said Roxane. When the Chelsea Art Museum hosted a one-woman show for Shirley's sculptures and paintings called "Shirley West, Discovery: A Retrospective," it was Mr. Kovacsezics who accompanied Roxane and Shirley to the opening.
When Shirley passed away in June 2010, Roxane hired New York painter Juliana Lazzaro to help Mr. Kovacsezics catalog the 497 paintings and thousands of drawings her aunt amassed over her lifetime.
But in the first week of October 2010, Roxane entered Shirley's studio to discover that all of her paintings had vanished. "I asked, 'Mike! Where are my paintings?!'"
He assured her that all of the paintings and drawings were moved to a locked cellar in the building's basement.
On the morning of Oct. 28, Ms. West was in a cab heading down to the Albert Capsuoto dedication ceremony when she phoned Mr. Kovacsezics. When he answered, Ms. West said, he sounded frantic and paranoid.
"I can't talk now! I can't talk now!" he said. "He just hung up. He never did that before," said Ms. West.
Mr. Kovacsezics had had a busy week. On Oct. 23, he agreed to take 13 pieces of jewelry, valued at $126,400, from "Agnes," promising to sell it on consignment.
On Oct. 24, he was hired by a prominent doctor to let repairmen install a flatscreen TV inside his apartment at 427 Washington Street. When the doctor returned, he discovered the TV laying on his bed and $50,000 worth of his wife's jewelry missing.
And before Oct. 28, Mr. Kovacsezics said he went to a restaurant in Brighton Beach, the name of which he did not remember, to sell the 13 pieces of jewelry, along with jewelry of his own and pieces given to him by jewelry designer Deirdre Featherstone, all of which he had placed inside a handbag.
He told The Observer that he was met at the entrance of this restaurant by two Russian men holding a bag of cash, nearly $500,000 he guessed. He was instructed to go to a parking lot located in the rear of the restaurant, and once there, he said he was hit over the head by an unseen goon.
When he came to, the jewelry and the money were nowhere to be found.
He said he went to Maimonides Medical Center to receive treatment and then, upon his release, went back to his tiny apartment on Desbrosses Street, where he was too embarrassed to show his face. Instead, he flew back to Budapest for "health reasons," he told police, according to the indictment.
But then he came back, once again flying to Montreal and then illegally crossing the border at Niagara Falls with the aide of smugglers, he said.
He came back to receive a new battery for his pacemaker and to claim the $20,000 inheritance Shirley West left him in her will. He said he spent his nights sleeping on the F trains, failed to get a new battery and the money owed to him, and decided to leave empty handed back for Hungary.
But the questions remain: What happened to Shirley's paintings? And all that jewelry?
Mr. Kovacsezics said that the paintings are still in Shirley's building.
"I wouldn't have felt bad taking [Roxane's] stuff because she is a liar and a thief, but I didn't take it," Mr. Kovacsezics told prosecutors in a sworn statement. "She just wants the insurance money."
For Roxane West, all she wants is to recover Shirley's art. She has hired Robert Wittman, a former FBI agent, to help her. "This is someone's life's work that can never be replaced," said Ms. West.
Those with any information leading to the recovery of Shirley West's paintings should call Mr. Wittman at 610-361-8929. Rewards are up to $25,000.
drosen@observer.com