One weeknight late last month, TheWrap.com editor in chief Sharon Waxman sent an email to The Hollywood Reporter's editorial director, Janice Min, shortly before 1 in the morning. Ms. Waxman asked Ms. Min if they could speak in person, privately, about how to improve the relationship between their publications. During the previous two days, Ms. Waxman had feuded with Ms. Min's web editor, Joseph Kapsch, over a story on TheWrap that said Mr. Kapsch was considering leaving THR as part of an "editorial exodus" that saw three employees depart. Mr. Kapsch, who, as of this writing, remains employed at THR, blasted TheWrap, or, as he called it, "The Crap," on Twitter and in a 600-word response he sent to the media blog FishbowlLA.
Prior to emailing Ms. Min, Ms. Waxman forwarded copies of Mr. Kapsch's statements to two executives at THR's parent company, Prometheus Global Media. She urged one to see how badly his employee was treating her. She told the other to watch his back.
"It's kind of amusing, these blogger characters out here," Ms. Min said, ever eager to remain above the fray. "They really enjoy ruminating and obsessing over what we do. It's just part of the kooky Net landscape out here."
Hollywood has always felt like a small town, but it may never have felt smaller than it does right now among the members of the city's Hollywood press. For decades Daily Variety was the sector's indisputed leader, the prime organ not only for scoops but for wild speculation, backroom smoke signals, trial balloons and brazen displays of wishful thinking as well. The Hollywood Reporter seemed content to take the number-two spot.
Then came Nikki. And Sharon. And Janice. And, never one to miss a party, Bonnie.
Never mind that the ad market is struggling and print is on the slab. Nikki Finke's Deadline Hollywood Daily, which launched online in March 2006, has gradually become a full-scale news operation. In 2009, former New York Times reporter Sharon Waxman launched a competing website, TheWrap. Later that year, Bonnie Fuller stepped into the mix with the gossip and lifestyle site Hollywood Life for Deadline's parent company, Penske Media Corporation.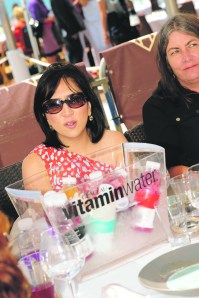 The digital threat led the legacy publications to adopt new strategies. At the end of 2009, Variety erected an online paywall. Last October, THR imported  Janice Min to revamp its website and relaunch the print publication as a weekly with a broader focus.
The result has been an increasingly brutal, fiercely personal competition replete with rampant poaching, vituperative blog posts and threats of legal action.
No one who knows anything worth telling comes without a complex history and connections. Therefore, like all good Tinseltown tales, this story must include a disclosure. For six months last year, this reporter was employed at TheWrap, where we were overworked, underpaid and regularly subjected to Ms. Waxman's mood swings. The last straw was when Ms. Waxman consistently berated us over the phone on our first day off in ages—Yom Kippur. Ms. Waxman declined to comment on this story.