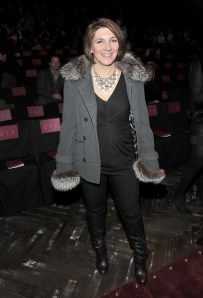 There's more: During our time on the Left Coast, we also extensively reported on the work of Nikki Finke. Ms. Finke does not like this reporter, to the point where she insisted on relaying her comments for this article through an Observer editor. Also: We also had lunch with a THR editor and discussed a hypothetical job that never panned out. That editor is not quoted in this piece. We have friends and former colleagues at all four trades.
Between Ms. Fuller, the famously mercurial, famously successful editor, who displayed a magic touch at Marie Claire, Cosmopolitan and Glamour, before almost singlehandedly reviving the celebrity weekly with US, and the even-tempered Ms. Min, her former No. 2, who took over after Ms. Fuller left the magazine, there's a natural competition.
More ferocious is the rivalry between Ms. Finke and Ms. Waxman, who were once such good friends, Ms. Finke used to go to Shabbes dinner at Ms. Waxman's house and still praises the Moroccan tagine. However she told the Observer, "I won't talk to her anymore."
Deadline began as a column in LA Weekly penned by Ms. Finke, a former debutante who worked in the Associated Press's Moscow bureau before covering the Hollywood beat for several publications, including Vanity Fair, The Washington Post and, yes, The New York Observer. Deadline launched online in March of 2006. Since then, Ms. Finke has developed a larger-than-life reputation due to her formidable influence, her highly placed sources, her catch-phrase "Toldja!" and her various eccentricities.
For example, Ms. Finke is never seen in public and has rarely been photographed. The one known image of her is a black-and-white glamour shot taken for a book jacket. "I don't know why people make such a fuss about this," she said. "In 2006 I needed a professional photo. I haven't needed a photo taken of me since then." Last February, this reporter was involved in an effort to capture a picture of the elusive Ms. Finke for Rupert Murdoch's iPad newspaper The Daily. We published a photo of a woman leaving the gated underground garage at Ms. Finke's apartment building that we felt confident was she. "The photo purporting to be me posted by The Daily was not me," she said. We were unable to definitively prove otherwise.
Ms. Finke edits Deadline by working the phones from her home in Westwood. She is notoriously combative, particularly with certain reporters who write about her. When The Observer reached out to Ms. Finke to get her take on the trade landscape, she responded with a strongly worded email accusing this correspondent of "reckless disregard for the truth."
Then another email came in purporting to back her claim. And another, copied up and down the masthead. A flurry of phone calls followed. Claiming that this reporter once declared an intent to "destroy" her, she demanded that the story be reassigned.
With an approach some call bullying but Ms. Finke prefers to call "being honest," she managed to earn a reputation as both a crusading journalist and a bona fide Hollywood power broker. "If someone acts like a moron, I'm going to call them on it," she said. "If someone lies to me, I'm going to call them on it. But I also take responsibility for my own behavior. Sometimes my passion gets the best of me." In 2009, she made the leap from mysterious blogger to establishment player with the help of a deep-pocketed backer, a young heir named Jay Penske who purchased Deadline through a deal that gave Ms. Finke what is said to be an eight-figure contract and eight-year term. With Mr. Penske's backing, in 2010 Ms. Finke was able to poach a pair of marquee talents: 20-year Variety veteran Mike Fleming and THR's TV editor, Nellie Andreeva.