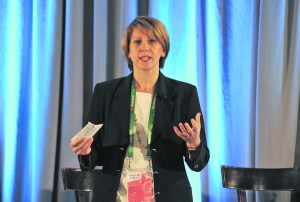 Ms. Finke and her team have since been able to amass a monthly audience of approximately 1.6 million readers, according to Quantcast, and during Oscar and Emmy seasons even put out a print publication "that made a shitload of money," she said.
In January 2009, Deadline found itself with a new competitor when Ms. Waxman launched a digital trade of her own, TheWrap. Their relationship quickly soured as Ms. Waxman encroached on what Ms. Finke considered Deadline's turf. (TheWrap's traffic was 1.1 million last month, according to Quantcast.)
Still, the THR writer we spoke with said TheWrap isn't as important to keep up with as Deadline. "I just don't think they're breaking stories as much as they used to," the writer said.
TheWrap's work has also drawn endless criticism from Deadline. In February, Deadline's parent company sent a cease and desist letter to Ms. Waxman and members of TheWrap's board accusing the site of stealing scoops. "It has become apparent that TheWrap.com and its employees have engaged in a continuous pattern of misappropriating content from Deadline.com [and] passing off that information as its own," the letter said.
Ms. Finke gleefully announced the legal salvo on her site. "I will not, and can not, allow anyone to rip off Team Deadline's exclusive coverage," she wrote. "TheWrap.com has had many wholesale staff turnovers…and at present is operating with just a handful of reporters."
Ms. Finke was correct. From April 2010 until the end of last year, Ms. Waxman lost at least six employees, including two reporters who went to Variety and this reporter, who joined The Daily.
Bert Fields, an entertainment attorney who represented TheWrap, responded with a letter to Deadline's parent company, PMC (then called MMC). "TheWrap has not engaged in the conduct you claim and has done nothing that violates MMC's rights," Mr. Fields wrote. "By contrast, MMC has demonstrably and repeatedly violated my client's rights, including but not limited to violations of the antitrust laws (giving rise to treble damage claims), as well as unfair competition and trade libel. Indeed, MMC's attempt to monopolize newsworthy subjects by threatening spurious lawsuits is, in itself, violative of the law, as are its numerous attempts to threaten and coerce others to refrain from supporting or dealing with TheWrap and its repeated publication of false and defamatory statements about TheWrap."
Seven months later, PMC filed suit against The Hollywood Reporter's parent company, Prometheus Global Media, alleging that code from the PMC site TVLine.com was used for THR's website. Prometheus responded by removing the offending code from THR.com.
It's easy to see why THR's website would be scrutinized by PMC. In the 13 months since Ms. Min has taken over the reins, her blend of consumer-friendly celebrity news and trade coverage has brought in record traffic. According to Quantcast, THR had a record month in October drawing approximately 6.5 million readers, a much larger audience than either TheWrap or Deadline attracts.
Ms. Min is not a fan of the traditional trade approach. "In some ways, the whole thing had evolved into some echo chamber where 1,000 people were talking to the same 1,000 people," she said. Conventional wisdom on Ms. Min's revamp of THR is that she has broadened the focus by adding more consumer friendly celebrity coverage. Ms. Min said her approach isn't simply about mixing celebrity and trade media, instead, she prefers to think THR has "expanded what is considered to be an entertainment story pertinent to the business." Still, getting away from inside-baseball trade news, she added, has felt "a little like being the first prospector in California."
Ms. Finke has staked out the opposite approach. "We've always been a celebrity-free zone," she told us. "And Hollywood tells us it's grateful for that. We are an entertainment business site and proud of it."