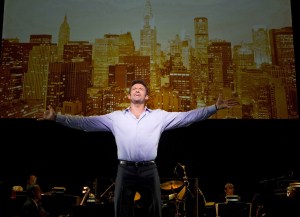 Hugh Jackman!
Yes!
Camera ready and slinging his rippled torso, with his undulating thighs drawing gasps and sighs from sold-out audiences nightly and white-picket-fence teeth catching the sparks from the footlights like diamonds, he hits the stage throbbing, and two hours later you leave with your knees shaking. You don't know what hit you. But you know you've been to the theater.
There is nothing Hugh Jackman can't do onstage—and in the one-man show called (what else?) Hugh Jackman—Back on Broadway at the Broadhurst, he pretty much does it all­—frontward, backward and upside down. Except for early legends like Al Jolson, Eddie Cantor and Marilyn Miller, I've been present for most of the show business summits and I am here to tell you I have never seen anybody, male or female, who had it all in one package like this boy from Oz. He's made so many stupid Wolverine movies I'm surprised people with taste, intelligence and savvy remember what he's capable of with a tube of greasepaint and a follow spot. Movies make money to fill the bank account, but Broadway makes magic to feed the soul. This is one movie star who is just a Broadway Baby at heart. In this sexy, funny, heart-rending, toe-tapping, foot-stomping, one-man extravaganza, he proves it, and sends his audience over the moon, screaming for more.
The screaming starts before he even appears, brightly booming Rodgers and Hammerstein's "Oh What a Beautiful Morning!" offstage, and oh how I pity anyone who missed his Curly in the National Theatre production of Oklahoma! in London. Entering in neatly pressed clothes that cling to him like the hands of thousands of women (and men) who dream of such things, he's the hip-hoppy, fresh-shaven all-American, kangaroo-sparring, jumping, leaping, flirting and breaking the Broadway sound barrier. He grinds his hips toward the people in the first row, accompanied by the appropriate drum rolls, and the high-price orchestra seats go berserk. He mentions the mezzanine and the mezzanine screams. Between songs, he shows still photos and film clips that demonstrate (while poking fun at) the three ingredients of his success—diet, training and genetics—then brings the house down with a shot of himself as an Aussie teenager in gym shorts with skinny legs and knobby knees. Proving, once and for all, what the bench press has done to make him a star.
The patter is candid, self-deprecating and charming, but when he swings into action as a song-and-dance man, you know this is no 8×10 glossy manufactured by the overzealous press department of a Hollywood film studio. In a clever pastiche of the Fred Astaire number "I Won't Dance," he sails through every rhythmic beat from "Begin the Beguine" to "Shake Your Booty." Throwing himself on one knee, he recaptures Al Jolson, bringing the crowd to its feet on a rousing "Let Me Sing and I'm Happy," followed by a tribute to the city that has given him an open-arms second career, belting out Cole Porter's "I Happen to Like New York" with mood-changing Technicolor footage of the Manhattan skyline acting as a bracingly effective emotional backdrop. The charisma and versatility take him from riffing about his one-night triumph in Carousel at Carnegie Hall to oy-vay eye rolling over his work as a fearless vampire hunter in the embarrassing Van Helsing. He has a sense of humor that captivates and enthralls, even about his bad movies. Then he can turn around on a dime and end act one with a passionately delivered, magnificently modulated and perfectly pitched "Soliloquy" that stops the show. And that just takes you up to intermission.
When the star-studded opening night crowd staggered back to their seats, the neatly creased black pants and pale blue shirt were gone and out pranced a honey-dripping, erotically charged party boy in skintight gold lamé, plucking memories of Peter Allen and The Boy From Oz out of the air like falling sequins singing "I Am Not the Boy Next Door." No, he's not. Leaping to the top of the grand piano to wail "Between the Moon and New York City," then leading six gorgeous chorus girls through Warren Carlyle's intricate Fosse-inspired choreography on "I Go to Rio," he fills the stage with so much nonstop movement and music you don't know what to look at or listen to first. It just hits you at the same time, like Fourth of July fireworks. Credit for the sets goes to that ace scenic designer John Lee Beatty, but honestly, except for a curtain of gold ribbons that descends from the ceiling on the Peter Allen medley, there is no set. Hugh Jackman is the set, and there's no need to gild the lily.