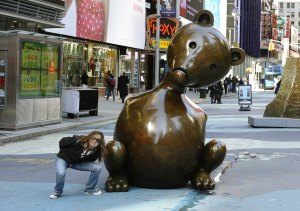 The San Francisco Arts Commission recently voted to terminate a contract with Tom Otterness that would have had the artist decorate a subway station with 59 bronze sculptures for $750,000. The termination came after a minor uproar when the panel discovered that Mr. Otterness shot and killed a dog in 1977.
Mr. Otterness is probably best known for his fat bronze statues at the 14th Street and 8th Avenue subway station, and also for shooting a shelter dog on camera at age 25 and calling it Shot Dog Film. Earlier this year year, Michael Miller asked him about the more infamous part of his resume.
"What the fuck do I do with this?" he said. He grew visibly upset. "Certainly the scene it was part of-it was in the context of the times and the scene I was in." He began again. "It is something I've grown to understand that nothing really excuses that kind of action. I had a very convoluted logic as to what effect I meant to have with that video. Whatever I had in mind, it was really inexcusable to take a life in service of that."
The commission did not rescind another contract that Mr. Otterness had for $700,000, a sculpture for the San Francisco General Hospital. We heard about this news from The San Francisco Examiner.