We imagine that it takes a lot to faze Bill Cosby. Maybe a worldwide JELL-O shortage? But that man has been around the block and back again. "Unflappable" is a word that comes to mind when thinking of Bill Cosby. Also: pudding pops.
So how does a paparazzo get that classic deer in the headlights from Dr. Huxtable? For Holly Van Voast, New York's Topless Paparazzo (who also sports a Dhali-like mustache), the answer came au natural-y.

M.s Van Toast was "discovered"* by photographer/writer Brandon Stanton when he took some photos of her standing on fifth avenue. She had a camera around her neck and nothing else till you get to the pants. When the Humans of New York blogger posted his photos to his site's Facebook page, comments started pouring in. Then Facebook removed the photos. As Mr. Stanton said:
This seemed to be the worst sort of discrimination. Facebook was sending a horrible message to the young women of America: even though your tits are equal, they must be kept separate. That sort of injustice could not stand. It was time for a Rosa Parks of tits.
Well, it turns out the "Rosa Parks of tits" is also a shutterbug herself, and takes paparazzi-esque photos of celebs. It's a double-edged sword, being a shirtless female trying to get a famous person's attention. On the one hand: if you're close enough, you got it. On the other: we doubt the hyper-security and bodyguards that surround A-listers ever lets Ms. Van Toast close enough to photograph her subjects.
With Mr. Stanton's help though, Ms. Van Toast was able to flash her assets at Bill Cosby as he was leaving a Barnes and Noble book signing of his new book, I Didn't Ask To Be Born: But I'm Glad I Was. His reactions?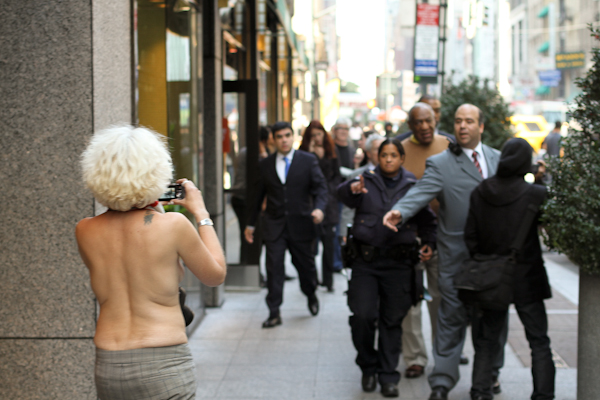 Priceless.
*Ms. Van Toast actually has quite a following already, with numerous articles and incidents attached to her name.