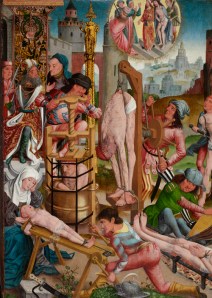 At the opening of "Late Medieval Panel Paintings" at Richard Feigen Gallery on the Upper East Side, a group of people had formed around one particularly gruesome work, The Torture of the Maccabean Brothers. In it, the Maccabees are being subjected to all kinds of unpleasantness. One is having his back broken, a bit of bone from his spine poking through the skin; another is being burned alive on a bed of hot coals; a baby is being stretched on a horizontal rack. All of them have been scalped and blood is flowing from their heads. A small panel is transposed in the right corner that depicts the suffering of Christ, a bid for sympathy from contemporaneous Christian viewers.
The piece is part of a beautiful exhibition that took nearly a decade to compile. Culled from private collections from all around the world, the show is a completist's display of a rare corner of art history. A large portion of the paintings come from Germany, Switzerland, Austria, Poland, France and Spain, away from the era's artistic epicenter of Italy.
"I just feel it's an area that is relatively unknown," said Richard Feigen at the opening. "Most museum collections are really weak in this area."
Asked how the show, which was organized by London dealer Sam Fogg, came to his gallery, Mr. Feigen said, "I like to do things that haven't been done." He added that the goal was to see the panels in a museum collection (though the show at the gallery is, frankly, better than any museum exhibition of this kind of work we've ever seen). At least one painting has already sold to a major museum.
The works' new context on the walls of an Upper East Side gallery illuminates their strange intricacies and stylistic quirks. A painting from Spain of Jesus on the cross shows his body covered in blood–but his skin is gray and the shape of his emaciated frame is strangely elongated and abstract. Nearby a French painting of the Virgin Mary in prayer is hyper-sexualized, showing pursed lips and a desirous gaze directed toward her clasped hands.
"They were looking for an excuse to paint beautiful women," said Arcadia Fletcher, who Mr. Fogg said organized a majority of the exhibition. "You've got to be broadminded enough not to see these as religious paintings. There was this desire to produce art."
Ms. Fletcher gestured to Saint Hubert and Saint Catherine of Alexandria, an image from Switzerland. Saint Catherine's hair hangs in blond curls below her neck. She has a faint smile and is looking longingly at some space outside of the frame. Her face is rosy and stands out from the rest of her body, which by contrast is remarkably pale-skinned.
"People ask, 'Why is her face pink and the rest of her neck so white?'" Ms. Fletcher said. "That's just how they liked their girls in Switzerland at the time."