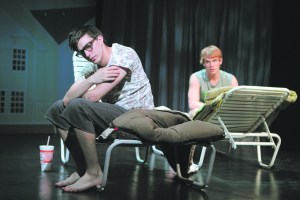 All through Wild Animals You Should Know, a morose little taste of darkness down at the Lucille Lortel Theatre on Christopher Street, I kept wondering why so many people were laughing hysterically. The woman next to me kept saying, "What are they laughing at?" Good question. The play, written by Thomas Higgins and directed by Trip Cullman, is about a teenage jock who comes out of the closet in the creepy and clandestine world of homosexual Boy Scouts of America. It's sad, unsettling and occasionally homoerotic, but it isn't even remotely funny.
Matt and Jacob are best friends in junior high (although they are played by actors who look old enough to be college graduates). Matt (Jay Armstrong Johnson) is a strapping, chiseled soccer star and iron-pumping tease who does not appear to take life seriously on any level. Jacob (Gideon Glick) is a wimpy gay kid who openly admits he's madly in love with Matt. "I'm not gay," protests Matt while he's stripping down to his Jockey shorts so Jacob can photograph him on his computer—"you just give good head." While the boys pursue their naïve little game of cat and mouse, Matt's tough, self-absorbed mother, Marsha (a wasted Alice Ripley), a realtor who is too busy showing houses to pay much attention to her troubled son, recruits Matt's father, Walter (Patrick Breen), a grown nerd so averse to the great outdoors he even hates his own back yard, to chaperone the boys and their scout troop on a wilderness weekend. Jacob sees a night in a tent as the chance he's been waiting for to get Matt alone in a sleeping bag, but Matt has a bigger goal: to confront, seduce and destroy another person just to see if he can. His victim is Rodney, the handsome, virile but sensitive head scoutmaster in his mid-30s who turns out to be gay but discreet about his private life, respecting and honoring both his position as a leader and his influence on the boys in his charge. While two of the fathers proceed to guzzle six-packs of beer until they throw up and pass out, the rejected Jacob pouts and the emboldened Matt stalks Scoutmaster Rodney (John Behlmann, memorable in The 39 Steps) and comes within inches of sexually conquering his prey. In the terrible aftermath of males behaving badly, hangovers, recriminations and bouts of marital discord ensue.
In a play that never convincingly sets forth a strong agenda, everyone pays a serious price, especially the scoutmaster, who resigns in shame after vandals spray graffiti on his garage doors, and even Matt's father ("How do we teach these kids to be men, when we don't have a clue what one is?") But the main focus is on the sexually confused Matt, who feels so guilty he withdraws from the Scouts, stops eating, and opts for a life of frustration and longing. It is not confused where these people live, but in the first scene Matt sees Scoutmaster Rodney having sex with another man, and in the last scene his mentor stands in a window watching Matt, who finally has the courage to strip away his protective underwear and send a signal that he is finally ready for … what? This play is never clear about anything.
You can't fault the actors, or the direction by Trip Cullman. But the play never lives up to its full potential. In light of the Penn State sex scandal, you could call Wild Animals You Should Know a topical report on pedophilia in an organization that pretends to protect children instead of abusing them, but these boys are too old and too mature to be anybody's idea of innocent victims. We've all heard of predatory role models such as coaches, priests, orphanage administrators and camp counselors, raping and otherwise psychologically damaging youngsters in sleep-away camps. In this odd play, it's the boy who aggressively sets out to ruin the life of an adult. Despite obvious shades of Rhoda Penmark in The Bad Seed and the evil, calculating child who wrecks the lives of her teachers in The Children's Hour, the twist in Mr. Higgins's play is that this time the child who does the dirty work pays the greatest price. The thing he destroys is the thing in himself he's been hiding from everyone else. He feels so tortured that by pulling down his briefs as the lights go out, he longs to reveal himself completely, strip away every defense, and stand naked before his scoutmaster. Or is he just initiating another phase as adolescent jail bait? The audience is stunned, filing out solemnly with a little bit (but not a lot) to think about. It is not a comedy.
rreed@observer.com