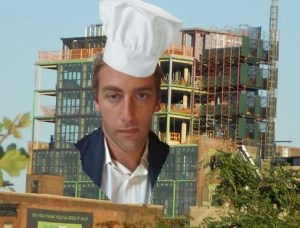 It seems that the Walentases are bringing the best of Williamsburg's flourishing food scene into their new hotel on the corner of North 11th Street and Wythe Avenue.
According to a report from Brownstoner, at a quarterly meeting of the Brooklyn Real Estate Round Table today, Jed Walentas made some comments that revealed some tasty details about Two Trees Management's new hotel project, including the fact that the restaurant (Brownstoner speculated there might be two, but our sources tell us there will be only one) on the the new development's ground floor will be run by Andrew Tarlow, the culinary mind behind Willamsburg foodie meccas Marlow & Sons and Diner (he also has a hit in Fort Greene's Roman).
Tarlow's involvement in the project brings immediate "cred" to both the gourmet and neighborhood "rep" of the new hotel which Walentas also let slip might be called "The Wythe" and will open on or around May 1st, with rooms starting at around $200 a  night.
So, it appears that Two Trees knows a thing or two about life outside Dumbo, or at least enough to know about who the go-to-guy is for Billyburg eats. This is stimulus money well spent.
tmcenery@observer.com