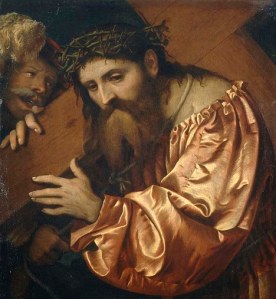 According to Reuters, U.S. agents seized an oil painting that was on display at the Mary Brogan Museum of Art and Science today that was believed to have been looted by the Nazis. The painting, Christ Carrying the Cross Dragged by a Rogue, had been on display since March. The work is by Italian Renaissance painter Girolamo Romano. Michael Kennedy, a Department of Homeland Security official, told Reuters the "illegal sale of valuable artwork and ancient treasures" is a "crime against humanity." He added that the plundering of artwork "has become a worldwide phenomena that transcends frontiers."
U.S. authorities announced they would seize the painting earlier this week. It came from a collection of 50 paintings on loan from the Pinacoteca di Brera museum in Milan as part of an exhibition that will close on Sunday.
The painting is being held in an undisclosed location ("It's an expensive painting," Mr. Kennedy told The Daily Mail earlier this week. "We're not going to tell anyone where it is").
According to Reuters, the painting was owned by Federico Gentili di Giuseppe, "an Italian Jew living in Paris, who died of natural causes in 1940 a month before Germany invaded France. The painting and over 70 other works were confiscated and sold by the French Vichy government in 1941."
The work has been tangled in legal negotiations since 1997, when Gentili's grandchildren sued for its return. The painting was insured for $2.5 million.