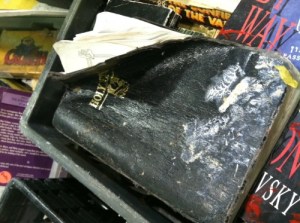 Following Tuesday's early morning raid on Zuccotti Park, the mayor's office tweeted out a picture of a bunch of books being kept in a storage facility in midtown. Was the People's Library saved?
Not quite.
As their WordPress blog was updated this morning, a lot more went into the library than those several books that were tweeted. By "recklessly" throwing objects into the dumpsters, the NYPD has almost destroyed the once-vibrant book scene in Zuccotti. Here's what is still missing:
So Mayor Bloomberg: where is the People's Library?
Between 2,000 and 4,000 books (we'll know if it looks right when we see it ), this includes five boxes of "Reference" materials many of which were autographed by the authors;
Our custom made "OWS library stamps;"
5 (4?) laptop computers;
Our wifi device;
miscellaneous paper supplies;
A round portable table;
a rectangular portable table;
6 metal shelves (five of which had been set up in two pieces);
three sets of wooden drawers;
a periodicals spinning rack;
Approximately 60 plastic tubs/bins of varying sizes (most small, but several big);
archival materials (I was starting to collect some stuff in the library);
posters (including many original posters created by OWS participants);
two lamps;
four solar lights;
7 (or so) chairs;
a wooden dinner table (that was our's right?);
periodicals/newspapers/zines (not counted in our book total);
our awesome tent;
signage;
personal belongings of librarians;
Okay, so the "we'll know that we've recovered all our books when we see them!" is kind of a vague statement, but still! Destroying books is bad! Bad Mayor Bloomberg, bad!