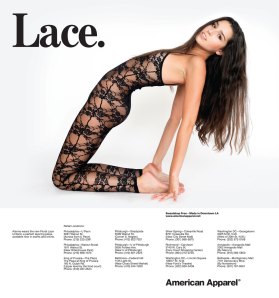 Performance artist Vanessa Beecroft plans to use five American Apparel models for a project at Art Basel Miami, reports writer and curator Corinna Kirsch, who obtained a leaked recruitment e-mail.
The project will apparently be staged at an unnamed masquerade gala and the models will be wearing "skin tone micromesh unitards" from American Apparel, along with "$200,000–$3,000,000 [in] jewelry" from Van Cleef & Arpels.
Too bad our American Apparel unitard modeling days are behind us, or we'd be on-board! All expenses will be paid, plus each model receives $300, Basel passes and a $30 per diem.
"Love or hate Vanessa Beecroft," Ms. Kirsch writes, "at least she pays her performers more than Marina Abramović."