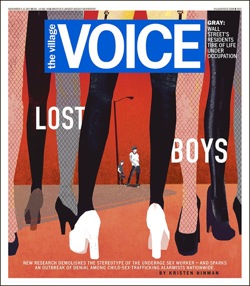 This week's Village Voice cover story is an installment in an ongoing investigative series The Truth Behind Sex Trafficking, which aims to debunk alarmist and overblown statistics about prostitution.
The article (by Kristen Hinman who was a longtime writer for other VVM publications) posits that underage prostitution does exist, tragically, but it's largely conducted voluntarily and independently, contrary to the archetype of the young girl manipulated by a nolder pimp. That misconception, she argues, distracts policymakers from the more meaningful task of lifting child prostitutes–many of whom are boys and transsexuals, she notes–out of the cycle of homelessness and poverty that led them to it.
It includes a plea to write to Senator John Cornyn and Senator Ron Wyden in support of a bill they've authored that would provide federal money for shelters for victims of underage prostitition.
The Village Voice's skin in this game is disclosed: That stereotypical form of prostitution sometimes transpires over Backpage.com, the online classifieds site owned by Village Voice parent company Village Voice Media (VVM).
Conveniently, the article arrives at the peak of the latest flare up in the ongoing battle to shut down Backpage.com. A letter written in August demanding VVM shut down Backpage.com's adult services section has now been signed by 63,000 people, including 51 Attorneys General and 36 clergy members. According to the National Association of Attorneys General, more than fifty cases of trafficking minors tried in the past three years involved Backpage.com, and the  company identifies more than 400 posts every month that may involve minors.
For example, a federal grand jury indicted two adults in Memphis for prostituting two teenage girls, ages 15 and 16, through advertisements on Backpage.com. The girls were allegedly promised a trip to a waterpark, taken to Texas, repeatedly drugged and forced have sex with a client for approximately $900, according to a report in Memphis's
Commercial Appeal
on Monday
.
The arguments in defense of Backpage.com are significant. As David Carr pointed out in his column Monday, it's a First Amendment issue, and if it is shut it down, the business would just pop up somewhere else. Backpage.com benefited from this phenomenon when Craigslist's erotic services section was shuttered.
Mr. Carr concludes that this amounts to a "principled stand, and just because it aligns with their business interests doesn't mean it isn't valid," but he never addresses VVM's editorial campaign. Is journalism that aligns with their business interests still valid?