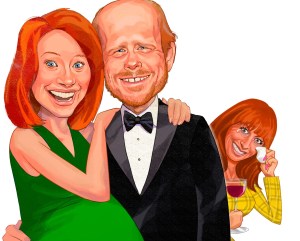 Ron Howard fits snugly in the category of people and things that are loved unreservedly, along with pita chips, Gchat and money. So it was not especially surprising that his Tuesday-night event at the Museum of Natural History was attended happily by many a New Yorker and one ex-Real Housewife.
The occasion was the premiere of When You Find Me, a film Mr. Howard produced and his daughter, Bryce Dallas Howard, directed. The movie is the end result of a contest sponsored by Canon called "Project Imagin8tion." It's a little confusing, so bear with us. Out of a pool of 100,000 photographs submitted by American hopefuls offering up their content for the chance at an all-expenses-paid trip to New York, Mr. Howard picked eight pictures to serve as the inspiration for his daughter's film, a 15-minute tearjerker about the reconciliation of two distant sisters.
The very-pregnant star of the night, actress—and now director—Howard waltzed across the room in a burnt green Max Azria dress. Asked how she was feeling, Ms. Howard grinned from ear to ear and reported that the baby was kicking from all of the flashes. Her husband, Seth Gabel (of Fringe), was missing in action for the night.
Mr. Howard, who was himself born into a show business family, said he remained hands-off when it came to creative decisions, aside from choosing the pictures, of course. "She didn't need my help," he told us. "I threw in my two cents the way I would with anything."
We asked if he had any advice for his friend and longtime producing partner, Brian Grazer, who has agreed to produce the Oscars in the wake of Ratner-gate. "Even though he's coming in late, he's very excited," Mr. Howard told us. "He's getting great support, he's excited about Billy [Crystal, the show's new host], he's a hell of an organizer. It'll be good."
Sure, sure, we'll set the TiVo. More important: What the hell is happening with the Arrested Development movie? Last week, he said, he had dinner with Jason Bateman and Mitch Hurwitz to discuss it. "I expect it will happen," Mr. Howard said. (A few days later, a deal was announced to bring the show back on Netflix, so who knows?)
Joseph Gordon-Levitt, who co-starred with Ms. Howard in 50/50 earlier this year, wasn't really in the mood to talk. He made a speedy run down the red carpet in his super skinny black jacket and dark jeans. Perhaps he was saving himself for the publicity onslaught set to come his way around the release of The Dark Knight Rises, this summer's much awaited Batman sequel or prequel or reboot or something, in which he plays a beat cop working for Commissioner Gordon. "[Christopher] Nolan is a brilliant storyteller," he said, "and I love working with him."
Karley Scott Collins, the 11-year-old star of the film, bounced down the red carpet and spoke just slowly enough for us to understand that she's from Lake City, Fla. She looks like Abigail Breslin's evil twin (or good twin) and has the bizzarro professionalism and pep of a young Britney Spears. "It really is my favorite thing," she said of acting. "I will be doing this until I'm 90 years old!"
Inside the museum, a corridor had been plastered with the photos entered in the contest. The winning images were hanging at the end of the hallway, and so was a former star of The Real Housewives of New York, Jill Zarin, wearing a plaid jacket and skirt. She said she'd flown in from Florida, where she played some charity tennis with Monica Seles.
Nice tan, we told her.
"It's fake," she replied with a smile.
She paused in front of one of the photographs to videotape it with her iPhone. "It looks like Jane Eyre!" she told her agent. It was a dreamy photo of two girls running through weeds carrying a lantern. "We have to get something like this."
The Brontë-esque image in question was taken by one of the contest winners, Brooke Shaden, a 24-year-old art photographer from Los Angeles who was on hand for the opening. She didn't know who Ms. Zarin was, but was happy for the compliment. "I love that movie!" she said.
As for Ms. Howard's movie, she told us before the film that it had been done very quickly, so we weren't expecting much. Nevertheless, it turned out to be quite enjoyable.
After the screening, film critic David Edelstein nervously led a short Q&A with the Howards, the film's screenwriter, Dane Charbeneau, and a rep from Canon. Ms. Howard noted that she would not be following in her parents' footsteps and making her child's middle name the place where the baby was conceived.
Following the screening, the crowd poured into the museum's magnificent Hall of Ocean Life—more commonly known as the Squid and Whale Room. It's a lovely spot for an affair, but the event needed about another 100 people to fill the room the right way. Swooping blue lights were cast all around, and white couches of various shapes and sizes were strewn neatly across the floor. The bar under the whale's belly glowed blue and featured a sparkly white tree poking out of the middle—a clever nod to one of the photographs that inspired the film.
We bumped into Ms. Zarin again, now clutching a glass of red, and asked her what she thought of the film. Her enthusiasm nearly plowed us under. "Amazing. Didn't you love it? It's definitely winning an Oscar! Don't you think?" The Observer hesitantly agreed with her. Ms. Zarin confessed to us that she'd cried a little during the movie but not too much because "you don't want to look stupid."
Did we cry, too? she wondered.
We didn't, we admitted sheepishly, feeling a bit heartless. We clinked glasses, and she walked out of the party, past the whale and the brilliant dioramas, and went back to living her life, now mostly free of camera crews. After a short while and a mini red velvet cupcake, we did the same.
editorial@observer.com