The very last bucket of concrete was lifted to the highest levels of Weill Cornell Medical College's towering new $650 million Belfer Research Building last week.
Now with its structure complete, the building looks to be entirely finished by 2014, according to a release issued late last week.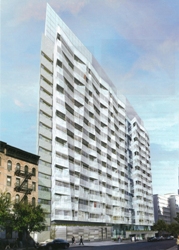 The 480,000 square foot, 19-story building will be home to dozens of state-of-the-art laboratories and office suites – and three below-street levels – at 69th Street between First and York Avenues.
Architectural firm Ennead Architects, which just recently unveiled its Natural History Museum of Utah in Salt Lake City, will be seeking a LEED Silver rating for the building.
AECOM's Tishman Construction Corp. is overseeing construction.
"This state-of-the-art facility will expand the culture of innovation and collaboration that is so integral to our global reputation in biomedical research," said Sanford I. Weill, Chairman of the Board for Weill Cornell Medical College.
Daniel Edward Rosen, Staff Writer, is reachable at DRosen@Observer.com