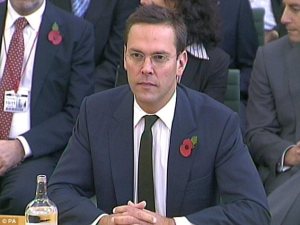 News Corp. Asia and Europe boss James Murdoch testified again today before Parliament, in light of evidence that he had misled MPs during the first hearing. Mr. Murdoch denied the accusations, implying that former News International executives Tom Crone and Colin Myler lied about making him aware of the widespread practice of phone hacking within the company.
Mr. Murdoch appeared calm, self-assured and, in a trim suit with a red flower pinned to his lapel, the youthful 38 year-old practically looked fit for the prom.
But that unlikely dash of color is not mere sartorial flourish. The red poppy is a symbol of Remembrance Day–England's version of Veteran's Day–which falls on November 11.
Poppies allude to the poem "In Flanders Fields," by John McCrae, about one of the bloodiest battles of World War I and originally published in Punch magazine in 1915:
In Flanders fields the poppies blow

Between the crosses, row on row,
That mark our place; and in the sky
The larks, still bravely singing, fly
Scarce heard amid the guns below.

We are the Dead. Short days ago
We lived, felt dawn, saw sunset glow,
Loved and were loved, and now we lie,
In Flanders fields.

Take up our quarrel with the foe:
To you from failing hands we throw
The torch; be yours to hold it high.
If ye break faith with us who die
We shall not sleep, though poppies grow
In Flanders fields.
Now you know!