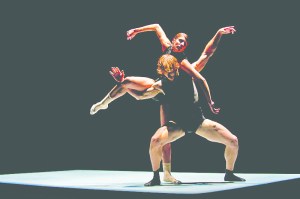 Romeo and Juliet is easy—we know the story, after all. Still, choreographers can't resist it, and the latest of them—Edward Clug (Romanian), head of Ballet Maribor (Slovenian)—does offer a new slant. First of all, Juliet survives. (Actually, we've encountered this approach before, in a spoof in which R. & J. both live on, in nearby Mantua, trapped in a bickering, after-the-bloom-is-off, you-take-out-the-garbage kind of marriage.) The new work—tricked out with handsome Renaissance-y back projections—also pulls a switch musically: not Prokofiev, not Delius, not Tchaikovsky. Instead, we have Radiohead, that portento-pop supergroup—which explains why the name of this ballet is Radio and Juliet. (Among the Radiohead numbers deployed: "Idioteque," "Like Spinning Plates" and "We Suck Young Blood.")
Like its music, the choreography is deadly serious—it's one long flashback, as Juliet, kneeling beside dead Romeo, recalls her story. There are seven dancers: Juliet herself (in a variety of corsets) plus six guys in black, their bare chests peeking out from their open shirts. She doesn't seem much more interested in Romeo (Radio?) than in the others, but then Mercutio always steals the show. Nothing is literal, but we can infer the ball scene (white masks), the balcony scene (pecking in silhouette), the fight scenes. A lot of the movement is exciting—fierce kicks, violent twitching; snatches of break-dancing. This Juliet is far from passive—she's snappy. The guys whip through things ardently. This is far from the worst R. & J. we've ever seen, and it's been successfully playing around the country over the past few years.
The most interesting thing about it in New York was the audience, which filled the big Skirball theater down at N.Y.U. This was no ordinary ballet audience though: I'd guess that three-quarters of it was young adult. They'd come for Radio, not Juliet, but they had a good time, and I had a good time watching them have it.
I had a different kind of good time a few nights later watching Luca Veggetti's interpretation of (he calls it "a meditation" on) another great play, Euripides' The Bacchae, one of the most powerful and mysterious of Greek dramas. This was the first offering from the newly reconstituted company called Morphoses since Christopher Wheeldon suddenly abandoned it to his co-founder, the beautiful, one-time Balanchine ballerina Lourdes Lopez. Now it's bringing in a different artistic director (and mostly different dancers) every year.
Mr. Veggetti is one of those European choreographers who's everywhere—slick, efficient, sometimes effective, and most of all, productive. As is true of Radio and Juliet, there's no attempt at the literal here, and because Euripides' play not only is less well known than R. & J. but is deeply obscure in itself, creating a danced version of it is a daunting challenge.
As a dance work, Mr. Veggetti's Bacchae only partly succeeds; for one thing, it certainly doesn't make its narrative intentions easy to grasp. But as a theater work attempting to suggest the nature of ancient Greek drama, it has remarkable intelligence, and many powerful effects. There are countless ways of presenting Greek theater, since we know so little of what the Greeks themselves did, and much of what I've seen has struck me as utterly spurious. Here the combination of the mysterious lighting, the resonant and gnarly music (featuring an amazing contrabass flute, taller than the woman playing it) and the semi-stylized, semi-hieratic movement gave me at moments the sense that this might be the real thing—or at least one possible real thing. Only the moments of speech seemed inadequate—dancers, for the most part, just aren't vocal actors. No one understood this better than Martha Graham, our foremost interpreter of the great Greek stories, who always brought in an experienced actress to speak whatever text was involved. (Who could forget Marian Seldes striding across the stage trailing bolts of cloth in something called Mendicants of Evening?)
Mr. Veggetti's dancers were uniformly strong and committed. With her supple and strong body, magnificent Frances Chiaverini as Dionysus dominated the stage, and City Ballet soloist Adrian Danchig-Waring, as the doomed King Pentheus whom Dionysus lures to his destruction, revealed a force that we haven't previously realized was in him. All in all, this inventive and mostly persuasive Bacchae bodes well for the new Morphoses.
There's no one the New York dance world honors more highly than Suzanne Farrell, always (and rightly) referred to as Balanchine's greatest muse. She's not only remembered as a great dancer and a great artist (not always the same thing), but for the past decade she's been recognized as both a superb coach and a leading force in preserving Balanchine ballets and style. Her company—the Suzanne Farrell Ballet—has been supported from the start by the Kennedy Center in Washington, where she most frequently performs, although we've also seen her in New York over the years.
Recently she brought her dancers to the Joyce for an all-Balanchine program that, alas, was a disappointment. In Washington, a week or so earlier, she had successfully presented two major works, Serenade and Concerto Barocco, both too large for the Joyce stage. In addition, in Washington she had a live orchestra, and a wider choice of dancers. The constricted New York stage plus dancing to taped music inevitably diminished the effect her company made, but there were other negative factors as well.