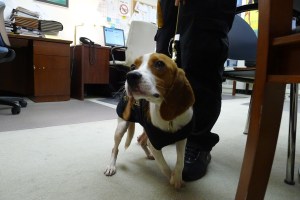 To combat the city's growing bed bug problem, the Department of Housing Preservation and Development has gone to the dogs. Say hello to Nemo and Mickey, the latest members of the department's Maintenance Code inspection team. And rather than the vet, the two Beagles were fortunate enough to get their tags—we mean badges—from Council Speaker Christine Quinn and Housing Commissioner Mathew Wambua.
"Awww, look at their little jackets," cooed Ms. Quinn when she first set eyes on the dogs.
Indeed, there was so much baby talk and photo snapping, the scene shared more than a passing resemblance to a new-borns room in a maternity ward, as much as a City Hall press conference.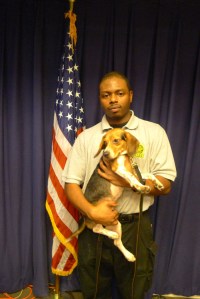 Behind all the joie de pooch was the serious and very nasty issue of actually being bitten by those pesky bugs. Commissioner Wambua revealed how in the last fiscal year the department had received some 13,000 complaints and 3,500 violations.
"After you use the dogs you will really feel good about sleeping and you won't have any mental health anguish," said Council Member Gale Brewer. The dogs, she said, have a 98% success rate, which should help put New Yorkers' minds at ease. "Bed bugs create, not a physical, but a major mental health problem," Ms. Brewer said.
With just two dogs, private contractors can also sleep soundly tonight. They have had the bed-bug-sniffing market pretty much cornered, but there is only so much the department can do. "I want to make clear that there is more that needs to be done," Speaker Quinn said. "Two dogs is clearly not enough for 8.4 million people, and god knows how many bed bugs."
On the topic of private firms Ms. Brewer added, "Unfortunately some dogs aren't highly trained when you call a private contractor. These dogs the HPD have are very highly trained."
Today's announcement has been a long time coming—cities like Seattle and Chicago already have sniffer beagles in place. "In 2009, 1,000 people showed up in Washington Heights for the first meeting with the HBD to talk about this," Ms. Brewer said. For the representatives at City Hall and residence of New York City, it's a case of better late than never.
After thanking Commissioner Wambua, Ms. Brewer and everyone who has been part of the bed bug advisory board Ms. Quinn paused, giving her voice an air of gravitas, "Mickey and Nemo, thank you very much." Mickey had nodded off by this stage. "Mickeys still asleep, I won't take personal offense."
Just resting up for a tough weeks of sniffing ahead, no doubt.
realestate@observer.com