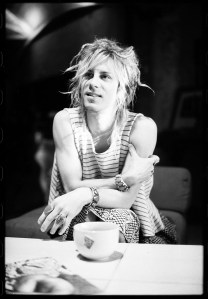 On a cold, drizzly morning last week, artist and journalist Ethan Pettit was standing in front of a big steel door in a stairwell in a nondescript loft building on North 11th Street. Mr. Pettit is a genial, hulking guy with broad, friendly features. Even with his curly, shoulder-length hair, matted down by the rain, he didn't seem like a likely candidate for drag. But in the 1980s and early '90s, he appeared as Medea de Vyse at parties and events throughout Williamsburg, including ones held in Arcadia, which was once on the other side of the steel door.
Arcadia was a nightclub that the composer and musician Billy Basinski set up in his sprawling loft apartment. From 1989 until 1997, it hosted concerts and readings and performances in a distinctly un-Williamsburg space.
There was velvet everywhere, and glass. New York's avant-garde scene always likes to celebrate the gritty and the unfinished, but Arcadia had it both ways: located on a desolate block and in a grungy old factory, it was opulent, a throne room.
"It looked like a Baroque Venetian palazzo," said Mr. Basinski in a telephone interview from California, where he now lives.
"It looked like a Weimar cabaret on some kind of drugs," said Mr. Pettit.
Arcadia embodied a particular bohemian period in Williamsburg, a moment that is fading into memory more completely than equivalent moments in Soho or the East Village or the Lower East Side. But now that "downtown" culture has more or less moved entirely to Brooklyn, those heady Williamsburg years seem to have been a premonition. On Wednesday, Issue Project Room is hosting a gala benefit in honor of Mr. Basinski and his club in the McKim, Mead & White building in Downtown Brooklyn that it is renovating into a performance space, planned to open in 2013.
The evening includes the New York premiere of selections from Robert Wilson's quasi-opera The Life and Death of Marina Abramovic, featuring Mr. Basinski, Ms. Abramovic, and Antony, of the band Antony and the Johnsons, who did some of his first New York performances at Arcadia.
"We wanted to pay tribute to a club that was an inspiration to Issue Project Room," said Ed Patuto, Issue's executive director. "Billy's Arcadia was a place where emerging artists could come and perform and try new things and that is very what we are about. It's about giving artists and performers the opportunity to experiment. And for people to experience that."
It's hard to walk on Bedford Avenue now and imagine what it was like in the 1980s. Mr. Pettit pointed out the storefront on North Fifth where he lived starting in 1983 (it's now a Subway sandwich shop). Other than the Senko Funeral Home on the corner, which is still there, he can remember a guy who lived on North Eighth and that's about it. There were some Polish bars and music clubs up near Greenpoint, and some Latin ones on the south side of Williamsburg, but not much else as far as a cultural scene.
The first gallery Mr. Pettit remembers was one in Greenpoint called Minor Injury, which opened in 1985 and put on mostly group shows. (There was an annual "ego" show: Ego one year, Superego another, Trans Ego another.) A few others opened up in the following years—the Bog, Quiet Place, Ledis Flam—and a small music scene began to develop.
There were antifolk bands. There was a lot of theremin.
In 1989 an Irish woman named Terry Dineen and a Frenchman named Jean-François Pottiez opened a space called the Lizard's Tail on South Sixth Street. It had a tiny stage raised a foot off the floor; the audiences would replace the beer when it ran out. It was a hit with artists, but not with the police, who had it shut down in 1990.
It had been made clear, though, that Williamsburg was able to sustain an active cultural and social life, and a small group of friends organized a party called the Cat's Head in an old mustard factory on North First Street on July 14, 1990. There was a second iteration that October, and another party, called the Flytrap, the following June. At the same time, another group, called Lalalandia, was running its own events.
The parties were immersive and immense, jam-packed with installations and performances and eventually drawing thousands of people. The line between performers and attendees was intentionally blurred; the whole thing sounds like a cross between a rave and a children's birthday party. People crawled up an enormous spider web made of rope; an artist named Dennis DelZotto made enormous inflatable environments.
Mr. Pettit claims that it wasn't a drug scene, but there was something decidedly edgy about it.
"There was lots of yelling, lots of embarrassing behavior," he said. "People taking their clothes off."