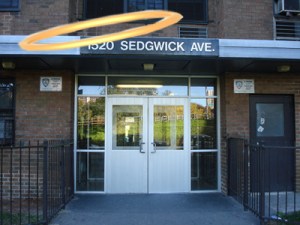 The hallowed ground on which "b-boys" and "b-girls" first found their groove will be saved from (a non-allegorical) wrecking ball crew.
1520 Sedgwick Avenue in The Bronx is often referred to as "The Birthplace of Hip-Hop" owing to the musical sound that was pioneered by DJ Kool Herc (nee Clive Campbell) in the building's recreation common room during the late 1970's.  Mr. Campbell's music influenced other progenitors of the hip-hop scene, including Grandmaster Flash and Afrika Bambaataa, who made their way to the Morris Heights section of the Bronx to attend parties at 1520 Sedgwick, before bringing Mr. Campbell's DJing style back to the more Southern boroughs.
In recent years however 1520 Sedgwick became a glaring example of the pitfalls of predatory lending, with it's new ownership falling almost immediately into default and allowing the building to go neglected. In fact Senator Chuck Schumer wryly referred to the building as "the birthplace of predatory equity" last September when news of the building's dire financial situation came to light.
Despite attempts by city financial officials to prevent the transaction, a group led by investor Mark Karasick purchased the deed to 1520 Sedgwick in 2008, and went into default less than two years later, prompting outrage and fear from longtime residents including 72 year-old "Mama Kool Herc," aka Geraldine Davis, who told The Times today that "We stay here and fight. I'm going to stay here till the bricks come loose."
But the bricks will stay firmly in place, at least for now, as a company called Workforce Housing Advisors has picked up the deed to 1520 Sedgwick at public auction for $6.2 million. $5.6 million of that amount will come in the form of a city loan designed to save buildings just like hip-hop's Bronx-based birthplace.
tmcenery@observer.com