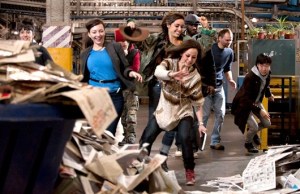 There's all the news that's fit to print, and then there's reality television, which is kind of like all the news that snuck in over the transom, while readers of The New York Times were fitfully dreaming about the economic meltdown, war in the Middle East, and human rights violations in China. Basically, when it comes to real-world news and Bravo, never the twain shall meet. Or so it was, until along came a certain piece of avant-garde programming titled Work of Art: The Next Great Artist.
"Wake up you sleepy heads, we have a very invigorating challenge," artist-mentor/gavel-pounder Simon de Pury informed contestants at the crack of dawn. No, the remaining artists were not about to take part in one of those Dove soap commercials in which friends swap bars of the foamy stuff (therein contracting one-to-three types of Hepatitis, while simultaneously noticing how tight their skin has been feeling).
"I knew it!" Kymia shrieked when she saw that it was Mr. de Pury at her door. Translation: She was correct in betting that neither Santa Claus nor a ghost had come knocking at an ungodly hour, before the New York stock exchange was rung in. And so, Mr. de Pury and his creatively minded charges headed off, out of the borough of Manhattan to the great unknown.
"Welcome to The New York Times," intoned the robotic host/judge/socialite China Chow, wearing what almost looked like a normal red dress. No, the gang was not in the midtown Times building, where they might interact with actual experts on global events. They were in the outer-borough "Willy Wonka's factory," where "gigantic robots" could be seen "walking around by themselves," according to contestant Michelle Matson.
"You all know the phrase 'ripped from the headlines,'" the Ms. Chow-robot droned. "For this challenge, we are asking you to do just that." For once, more than this elliptical message was offered by way of instruction. The artists were told to root through a pile of newspapers, from which each would pick a headline to depict, incorporating the physical newspapers in their final piece. Meanwhile, no one would get immunity, and the winner would receive $20,000 from show-sponsor Blue Canvas (???) magazine.
KYMIA NAWABI
Ms. Nawabi seems really freaked out about making art about international affairs, which is weird, because the editorial team at Bravo has portrayed her as the "Iranian-American artist," and there have been some headline-worthy things to plumb in that neck of the woods lately. Anyway, she makes something about a serial killer (and who doesn't love art about serial killers… See: the Law & Order franchise). It's a plaster coffin filled with ashy newspapers from which gross wax casts of feet protrude. It also weighs a ton—probably because of the number of puns it contains within it: Ms. Nawabi deems it "a killer piece," and gallerist/tall-haired judge Bill Powers proclaims, "Someone buried the lead on this!"
THE SUCKLORD
"I can't phone in another turkey or I'm finished," the Sucklord confides to Ms. Chow in crazy Studs-Lonigan-speak early in the episode. "Use the force!" says the guru/socialite. Unfortunately, fearing that critic/judge Jerry Saltz will make good on his promise to "go medieval" on the the Sucklord if he invokes Star Wars anymore, poor Mr. Sucklord is left making a horrific sculpture about BP's payoffs to restore the Gulf of Mexico. Essentially, we're talking about a pile of fake money, bundled up in strips of The New York Times, dribbled with fake oil. It's supposed to refer to Rauschenberg, whom the Sucklord (unlike all other artists) does not like. Also, it's supposed to be about how the Times let BP "off the hook."
YOUNG SUN HAN
When this episode was filmed, a bajillion years ago, Chinese artist Ai Weiwei was still in prison. Making art about an internationally renowned artist who is being held without explanation and possibly tortured by the Chinese government for months on end, while said artist is still missing, is powerful stuff, especially when compared to a plaster coffin filled with newspapers and wax feet. "Where is Ai Weiwei?" read Mr. Han's stacks of blackened newspapers, scattered throughout the gallery. (If you care to know: now he's out of jail, stuck facing an absurd $2.4 million bill for "evading taxes," according to the Chinese government.) The art is bland, but censorship and unlawful imprisonment are compelling topics, and Mr. Han wants the $20,000 to send his cancerous mother back to Korea for a final visit. OK, we see where this is going.