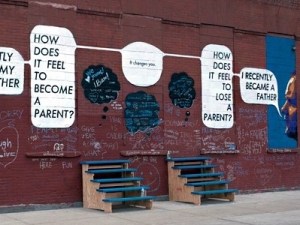 "Will you massage my vagina?" contestant Sara Jimenez asked of her (openly homosexual, for what it's worth) fellow contestant Young Sun Han at the outset of the sixth episode of Work of Art: The Next Great Artist. Indeed, Bravo — after having made us pretty wary by moving Top Chef to Texas of all godforsaken places — definitively proved it had no shame left. Either that, or Work of Art had at long last begun dealing in "boundary"-pushing X-rated performance art more worthy of an LA MOCA gala than network television.
Before anyone could push "it" too far, however, the remaining artists were herded out to the wilds of non-Manhattan, where they were met by socialite/show-host China Chow, dressed like a marshmallow, and auctioneer/contestant-mentor Simon de Pury, who was, shockingly, costumed like an average human being. Mr. de Pury was in fact wearing his Brooklyn Suit™, which was no doubt still bespoke, but featured sneakers ("plimsoles," back in the Old World) and jeans ("dungarees"/"peasant clothes").
Our would-be artists were then commanded to craft their very own pieces of street art on vast stretches of brick wall. They would not work alone, but rather in random pairs designated by the color of spray-paint they selected and tested by tagging Ms. Chow's gelatin-rich ensemble. Before Ms. Jimenez could snag the weekly prize for most lewd performance, the Sucklord spray-painted green nipples on the cowering Ms. Chow, which the secretly lascivious Mr. de Pury — sprung from the constricting moral confines of his usual pinstripes — bawdily encircled in more boobalicious spray paint.
"Simon is like the Sucklord with an ascot and class," would-be-great artist Michelle Matson murmured, offering a rare moment of insight into the kind of art-world gentry that has historically yanked street art by its plimsole laces from the gutter to the auction block.
Finally, we learned that the winner of the street-art challenge would nab $30,000 from Blue Canvas magazine, which, given the general fiscal state of magazines today must either be a) a "magazine" in the other sense, of somewhere where vast quantities of goods are stored, including bricks of gold/cocaine, or b) some other kind of mob front.
THE SUCKLORD AND SARAH KABOT
The artistic duo decides to emblazon their section of the wall with a black-and-white maze, meant to evoke New York City's labyrinthine aspects. Basically, the Sucklord is fatally distracted from his usual pursuit–the nympheticLola Thompson–by Ms. Kabot's top-heavy form, and somehow deemed it a good idea to make a really big version of the background of the Pac Man game. When, during installation, the heavens open in a god-sent watery fury against bad art, Mr. Sucklord rails that it's "just like you build this great thing and just something dumb happens and wipes it out," which is exactly what Rome's architect said the first time around, when he built his city with soluble glue.
KYMIA NAWABI AND SARA JIMENEZ
This pair of artistic collaborators is worried from the get-go, since both members usually make tiny, wishy-washy pieces. But the ladies discover they have something else in common. When Ms. Nawabi describes how her Iranian parents were forced to emigrate in 1979 because of the revolution, the Canadian-Philippine Ms. Jimenez vampirically mutters, "See, I like that." So they whip up a mural featuring tree-people being uprooted by a creepy androgynous figure, who is smoking a cigarette and who thereby, according to Ms. Jimenez, symbolizes "bureaucratic systems." "Well, it's a guy in a business suit, so it's 'The Man,'" she explains, air quotes and all, to Mr. de Pury.
DUSTY MITCHELL AND YOUNG SUN HAN
In the greatest Disney Revelation of Shared Humanity Moment™ of season two thus far, Mr. Mitchell relates, "Me and Young come from different places. We have totally different life experiences. I'm married with a child; he's got a boyfriend." But does that impair their partnership? No, sir, it makes both artists stronger, and the super-team of rural-hick-meets-urban-gay-guy throws together a wall painting featuring their two profiles conversing about fatherhood. Mr. Han has just lost his father. Mr. Mitchell has recently become one. In between their own various graffitied daddy-issues they leave blank text bubbles on which viewers can tag their own parental problems. (Any time you want to write about the psychosexual legacy of your pseudo-pop Al Pacino, Lola, we're ready.)
LOLA THOMPSON AND MICHELLE MATSON
Ah, the hipster babe squad has finally formed. "I've never gotten into trouble-making street art, but I've made a lot of renegade swings," Lola confesseds, adding that she has been known to throw glitter at subways. All this twee contemporary crap can only lead to a mural of twee sexy tigers complete with cigarettes and smashed Champagne bottles and many-striped penises. The giggling, mean-girlish pair — who make Ms. Nawabi cry by denying her access to the scanners and then pasting big-cat penises on her mural about her familial flight from war-torn Iran — have "the most fun ever… penises are so much fun!" But they're super gross about it, telling everyone that they can put their sex-offender-Tony-the-tiger-penis stickers "anywhere you want."
THE CRITIQUE
Ms. Chow has changed into a jacket for which, by all appearances, Big Bird's extended family had to perish. Critic/judge Jerry Saltz, meanwhile, is wearing a snap-up denim shirt, upon sight of which a whole family of TV costume designers dropped dead. Street artist Lee Quinones is in attendance as a guest judge, wearing normal clothes and sweating nervously, because his profession is illegal.
The panel commends Dusty Mitchell and Young Sun Han for their pretty nice mural, and praises Sara Jimenez and Kymia Nawabi for their equally OK piece. Of the two nice-ish pieces, Mr. Mitchell and Mr. Han's wins, garnering the unlikely duo $30,000, which will be delivered as soon as "Blue Canvas Magazine" can extract the money from a World War II submarine at the bottom of the Atlantic. Mr. Han now has now secured a total of $35,000 from the "magazine," which is obscene, and Dusty has now received enough money to make his wife pregnant (see: The Observer's Work of Art Recap, Episode 5, subsection: 'How Babies Are Made').
Sarah Kabot and the Sucklord are reprimanded by the critical gaggle for their "conventional" and "boring" artwork, which according to Mr. Saltz screams "sleep as you walk past me," and which according to gallerist/judge Bill Powers looks like it was made by someone who drinks white wine (99.99% of the art world). Lola Thompson and Michelle Matson fare only slightly better in the critical mêlée, reminding Mr. Quinones of the early 70s (and therefore "bland wallpaper") and leading Mr. Saltz to spit out bile-drenched words like "gimmicky," "kooky," and "silly, canned surrealism."
Ultimately, however, it's the Sucklord who is sent packing. Ms. Chow is shocked that he didn't produce better work for the street-art challenge — since, after all, he's never wearing couture, is greasy, and therefore "should have felt right at home" in the mean byways of Brooklyn. Luckily, the Sucklord believes that he is the next great invincible artist, and cries, "If you strike me down I shall become more powerful than you can possibly imagine!"