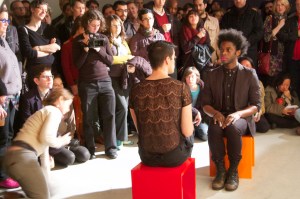 As we passed each floor, riding up in the New Museum's elevator on Saturday evening, a faint, pulsing bass, coming from up above, got progressively louder. The doors opened onto the dimly lit seventh floor, and that rumble became deeper, almost bodily, anchoring an otherwise breezy house track.
A few people were dancing. Others stood in place, surveying it all, drinks in hand. All of this was being filmed and photographed, rigorously documented. We asked a bystander when the performance would start. "I heard," he replied, bobbing in place, "that this is going to be a three-hour cocktail party with a 10-minute performance."
The emcee, Los Angeles-based trans artist Wu Tsang–who is currently in residence at the New Museum, preparing work for its upcoming triennial–dashed about in black heels, black shorts and a tight black tanktop, chatting with the deejay, Ashland Mines, a.k.a. Total Freedom, and with guests. People were confused, but they were having a great time. The music was gorgeous.
After about an hour, the lights went out, and Mr. Tsang appeared at the center of the room, holding a microphone. Downtown Manhattan was arrayed in the windows behind him. "We're going to be channeling some voices from Paris Is Burning," he said, referring to the classic 1990 documentary about minority drag queen balls.
We were handed slips of paper listing the sources for those voices we were about to hear, which included the 1968 documentary The Queen and archival interviews. "The New Museum is not necessarily a safe space for all the communities it references," Mr. Tsang said. He wanted us to know where the words were coming from.
(The previous morning, discussing the absurd Marina Abramovic gala-as-artwork at the Museum of Contemporary Art Los Angeles, Mr. Tsang had written on his blog about preparing to perform for New Museum donors at a "friendraiser" that evening, "thinking about the role that performance artists often play in these situations, as being complicit 'entertainment' jesters for elite patronage of museums.")
Four young performers—from what we could tell, two men and two women—were locked together on the floor, their bodies intertwined, in front of Mr. Tsang, who immediately joined them, crawling through their limbs.
"I want my name to be a household product," one said, writhing among the bodies.
Another: "I want to get married in church, in white."
A photographer dashed about, snapping photos, sending off blasts of light from two huge bulbs hidden under umbrellas. We saw Paris Is Burning years ago, and some of the lines felt familiar, but we could not recall for certain. The performers moved as the scenes changed, some standing to the side for one-on-one moments.
One of the performers got angry. "I have the right to show my color, darling" she said, her voice rising, as she quoted lines from The Queen. "I am beautiful, and I know I'm beautiful. Look at her makeup! It's terrible!"
Two performers sat across from each other—an interviewer and her subject. As the former asked questions, she held her arms in front of her, and tried to frame the other in a rectangle between her fingers, though she kept moving, and never quite managed to do so.
Correction: An earlier version of this article incorrectly stated that all four of the performers were black. We regret the error.