Right from the gate, the Invesco Real Estate-Kaufman Organization partnership behind 100-104 Fifth Avenue followed a simple motto: Go big on tech or go home.
Since acquiring the building in January 2011, the Kaufman Organization has leased 100,000 square feet to new tech tenants, including 45,000 square feet to Apple's iAd mobile advertising unit.
"We've been on a tear," said Grant Greenspan, a principal at the Kaufman Organization.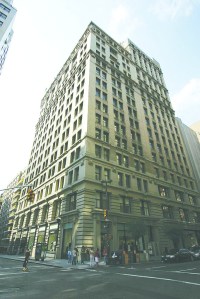 Last week, the firm unveiled another new tenant that, when compared with Apple, was smaller in size but, in the tech world, arguably just as relevant.
Yelp, a San Francisco-based online review site, unveiled its new 9,505-square-foot office space, complete with the typical trappings of a Silicon Valley start-up office: a beer-tap controlled by an iPhone app that monitors the beer's temperature and conference rooms named after classic Nintendo games.
Like all young tech companies, Yelp injected its offices with a shot of youthfulness, entirely antithetical to the straight-and-narrow design of more traditional corporate tenants.
Whereas 20 years ago some landlords might have been suspicious of a company like Yelp—not to mention its skateboard-riding, beer-swilling employees—Mr. Greenspan laid out the welcome mat.
Now with a building that boasts Net-a-Porter.com (which leased 32,144 square feet in May) and Interactive Partners (which signed a 10-year lease for 5,400 square-feet in August), Kaufman has turned its Union Square property into a hub where web designers and online marketers co-exist under one roof.
"There is no synergy or bond between one financial hedge fund and someone who does aircraft leasing or equipment," said Mr. Greenspan. "[At 100-104 Fifth Avenue] there is a bond in terms of employees, creativity and, for whatever reason, there is a clustering effect that takes effect here."
Yelp was represented by Scott Gamber and Paul Milunec of CB Richard Ellis. Mr. Gamber and Mr. Milunec declined an interview request. Yelp declined to participate in the story. Mr. Greenspan declined to share the specifics of the lease.
Yelp's new office will eventually house 100 employees and it recently added 20 full-time employees.
At Yelp's press conference last week, Mayor Bloomberg told reporters that the new office space was "the latest proof that New York gets five stars as a home of growing and innovative tech companies."
Although the city had little involvement in Yelp's lease negotiations, the mayor's office wanted to make sure the young firm had the opportunity to expand. The company has an option for contiguous space, sources familiar with the deal said last week.
"We want to make sure they keep expanding," said Chris Coffey, director of external affairs in the Mayor's Office of Media and Entertainment. "The city is doing everything it can do to create an environment that is the best possible one for companies like Yelp."