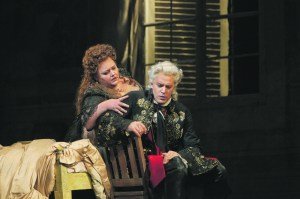 It can be valuable to go to the opera in the same way that most people do: not to the opening night of a new production with the donors and critics, but to the third or fourth or fifth production of a revival. Nerves have settled; singers are used to their parts and to one another. There is still the tantalizing uncertainty that's a part of any live performance, but you can be more confident that you're getting a finished product. It's on nights like these that you can get a real sense of an opera company.
Last week The Observer went to the third performance of Handel's Rodelinda at the Metropolitan Opera. The opera had its Met premiere in 2004 as a vehicle for the soprano Renee Fleming, who repeated the title role in 2006 and is once again starring.
Part of our choice to see a later performance was logistical and part was curiosity. It has long been suggested about Ms. Fleming that she improves over the course of an opera's run. The Observer has always discounted this notion, which seems conveniently to rationalize some poor reviews, but the contrast between Ms. Fleming's first performance (which we heard over a live stream) and her third was indeed remarkable.
Opening night sounded messy: her voice lacked responsiveness and her coloratura was heavy and approximate, as it had been when she sang a revival of Rossini's Armida in the spring. Her detractors have tagged her as "La Scoopenda"—a play on Joan Sutherland's nickname, "La Stupenda"—for her habit of scooping up from one note to another, a pseudo-technique that gives a faint impression of lushness. It can work for a lazy lounge singer but in opera it comes across as muddy. At the first performance Ms. Fleming was scooping like crazy, attacking the musical line to try and power her way through ornamentation that was difficult for her.
But a week later, her voice sounded cleaner and less weighed down. The coloratura still didn't come out with ideal ease but when the line was more lyrical she sang with lucid beauty.
Dramatically there has always been something a bit detached about Ms. Fleming's performances. In Rodelinda she plays a queen who believes herself to be a widow; she agrees to marry Grimoaldo (sung by the strong and vocally agile tenor Joseph Kaiser), the man who deposed her husband, in order to save her young son's life. Though the opera's form is rigidly controlled—a parade of da capo arias—the emotions are vivid. Ms. Fleming seems to understand that tenderness and despair are required of her, but she doesn't really make them happen. She has prettiness of voice and bearing but little urgency or directness.
It was telling that she interacted only in the vaguest way with the boy actor playing her son, who had a much more realistic and moving connection to the remarkable countertenor Iestyn Davies, playing the deposed king's trusty aide, Unulfo. Making his Met debut in this run, Mr. Davies has a bright, penetrating voice and a keen musical intelligence; he phrased with utter naturalness and pointed the text with clarity. Not every countertenor can fill the Met, and Mr. Davies does it not with size but with clarity.
He fared far better than his colleague, the countertenor Andreas Scholl, who played the exiled king. (He made his Met debut in the part in 2006.) Mr. Scholl is an elegant, thoughtful artist and he began well, with a spine-tingling performance of his exquisitely longing opening aria, "Dove sei." But his voice is smoother than it is focused; his faded-velvet tone tends to diffuse and disappear in the enormous Met. By his dazzling virtuoso closer, "Vivi tiranno," his tone was even and his coloratura flawless—but he was practically inaudible.
Like Ms. Fleming, Mr. Scholl wasn't a precise or truly engaged dramatic presence. Indeed, there is something arid about Stephen Wadsworth's grandly naturalistic production, despite its constant high level of activity. There is enough movement—workers on ladders, shifting scenery and, yes, even a real live horse—to fill one of Franco Zeffirelli's alternately adored and reviled spectacles. Why, then, are Mr. Zeffirelli's productions regarded by connoisseurs as guilty pleasures (at best) while Mr. Wadsworth's Rodelinda is well-reviewed and respected?
Part of it is Handel, who seems inherently classier than the 19th-century Italian warhorses with which Mr. Zeffirelli liked to play dress-up. The operas of the Baroque period were intended for much smaller houses than the Met, but Rodelinda scaled up nicely and its music is consistently spectacular. With Harry Bicket leading a stylish, focused performance—as James Oestreich observed in The New York Times, the Met orchestra had the snap and energy of a period band—the opera seemed to lack nothing in dramatic commitment and drive.