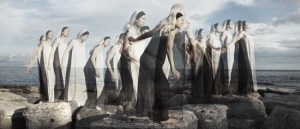 "Persona Performa" by Ming Wong began in the lobby at the Museum of the Moving Image in Astoria on Thursday. Through the glass that normally looks onto a courtyard, one saw the projected image of a beach, the same one from the Ingmar Bergman film Persona (which screened down the hall as everyone arrived). From time to time, the image of the beach was interrupted by a silhouette that walked across the screan, clearly recognizable as Death from The Seventh Seal.
Upstairs a new film screened, one that combined the faces of several actors, slicing them vertically and reassembling them as Bergman does at one point with his actresses Bibi Andersson and Liv Ullmann. Perhaps it's the fact that Bergman's film drives you slightly insane, or maybe it's that both of those women happened to be Nordic beauties and not so dissimilar in appearance to begin with, but when this happens in Persona, it's uncanny. Because Mr. Wong used a larger number of actors, and because they were more racially and sexually diverse the effect is not quite as eerie as it is in the Bergman film, though still impressive, if in a feel-good "under the skin we're all the same," Gap ad, kind of way. Since that sentiment slightly misses the existential dread more closely associated with the movie one felt certain that as soon as the performance began in earnest, the work would tap into that good dark stuff.
Turns out: not really. At start of the performance proper a cute kid pretended to be Ingmar Bergman and played a projector, that flickered light at the stairway in the lobby. One by one, 24 actors drifted down to stare at the audience, as Ms. Ullmann's character does during a performance in the movie, and become horrified. All the actors did this many times, circling around the building to descend the stairs again and again be horrified, until they finally stayed on the ground floor and began to dance. They all wore blond wigs and dresses, half black and half white, falling away from each other and holding each others' heads. One by one, they ran off to some unseen location and Bergman Jr. told us it was time to head into the museum's main auditorium.
Death awaited us in the theater. "You've kept me waiting," he said in a huff after we'd taken our seats. Death was something of a people-pleaser! His attitude continued later in an interaction with the young actor playing Bergman ("I've got so much to do." "You've got so much to do?" Chuckles). The bulk of the portion in the theater featured the actors staring into a camera and reading lines from the movie in different languages, and English, ad infinitum. There was more dancing, and a man snoring very loudly in the audience whom everyone could hear. It sounded like someone who could have done with a little more Death.