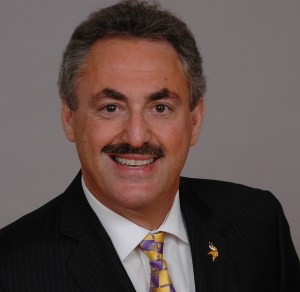 Although the Vikings may be the consummate heartbreak team, their owner, Zygi Wilf seem to be doing just fine for himself.  The real estate developer and his wife, Audrey, have just purchased a New York apartment, paying no less than $19 million for the place.
The Wilfs new four-bedroom, 4.5-bath spread comes just as the winter months are settling in over the Midwest. If their place feels a bit drafty, however, they have a working fireplace to warm it up. The Wilfs have ascended to their own private Valhalla, a full-floor co-op on the penultimate floor of 778 Park, where the terraces are as expansive as Asgard. Mr. Wilf knows a thing or two about apartments already, having built thousands of them in 39 states through his Garden Homes company.
According to a listing from Warburg broker Robert Schulman, "The master bedroom and marble master bath provide a quiet Zen-like retreat," perfect for meditating over that disastrous mid-season trade of Randy Moss last year. With three guest bedrooms, the Wilfs can surely have Adrian Peterson stay with them during his convalescence! Featuring park views and 12-foot ceilings the home is the opposite of Brett Favre—which is to say far from an overpriced  disappointment.
The home was originally listed for $24.5 million in 2009 by Irving and Judith  Shafran, who recently bought an apartment from the Sulzberger family on Central Park West for $10.25 million. The building, the redbrick sibling to storied 740 Park, was home to such titans as Brooke Astor and William F. Buckley.
Take a tour of Zygi Wilf's $19M palatial pad [PICTURES]>>>
eknutsen@observer.com