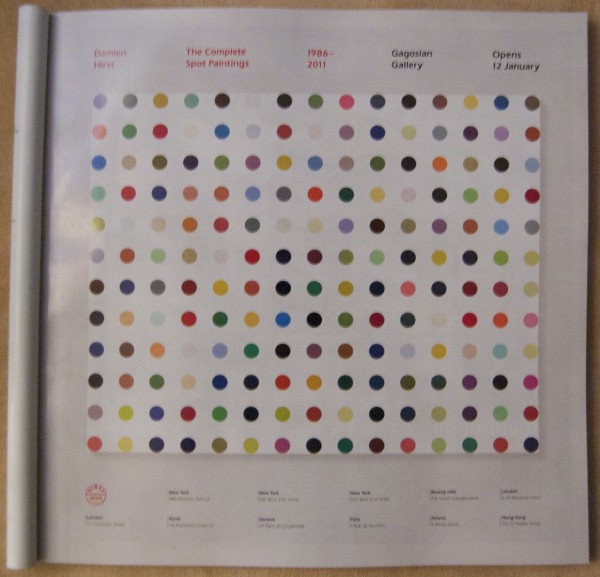 Earlier this month, we speculated that Damien Hirst would go on a whirlwind international tour by private jet, visiting the opening receptions at all 11 Gagosian galleries hosting his "spot" painting retrospective. However, it was later revealed that he will be in New York for the opening, delighting us and disappointing his fans in Athens, Rome, Hong Kong, Paris, London, Geneva and Beverly Hills.
Gallerist continued to hope for a bit of extravagance: perhaps, we quietly hoped, Gagosian would purchase 11 full-page ads in the January issue of Artforum, one for each gallery show, creating an unprecedented advertising experience—a marketing endeavor on the scale of the artist's "£50 million" diamond skull, For the Love of God (2007).
But our hopes were in vain. The January Artforum arrived and contains only a single ad for the Hirst extravaganza. And since all of the other Gagosians are booked, there are no other Gagosian ads this month (Mr. Gagosian typically books three or four pages), which means that Mr. Hirst may have actually saved the multinational dealer a little cash.
Though it is hard to read in our shoddy photograph (please click it to enlarge it), the bottom of the ad lists all 11 Gagosian galleries, which, in our humble opinion, looks just a tiny bit awkward. One more would complete that first row, bringing the number to an even 12. A reminder: we're betting that Mr. Gagosian will open one more gallery this year (in Tel Aviv, São Paulo or Istanbul), but, of course, only time will tell.
Let's hope that, when the January 2013 issue of Artforum arrives, with an ad for "Damien Hirst: The Complete Spin Paintings," a full dozen exhibition spaces will be listed at the bottom.