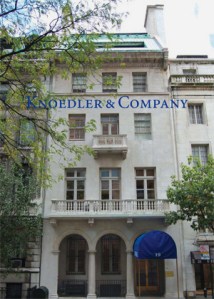 With a three sentence e-mail sent last night, the 165-year-old gallery Knoedler & Company announced it would close. Here is the blunt message:
"It is with profound regret that the owners of Knoedler Gallery announce its closing, effective today. This was a business decision made after careful consideration over the course of an extended period of time. Gallery staff will assist with an orderly winding down of Knoedler Gallery."
Knoedler opened before New York even had a major museum, and went on to champion the work of John Singer Sargent, Jackson Pollock, Frank Stella and many others.
The gallery has been in the news recently over a civil lawsuit involving the Dedalus Foundation, the nonprofit foundation created by the artist Robert Motherwell that is involved in conserving his works and placing them in museum collections. The foundation accused Ann Freedman, the gallery's former president, of selling forged Motherwell paintings. She has the accusation. After resigning in October 2009, she opened her own Upper East Side gallery, FreedmanArt.
The gallery struggled during the recession of 2008, and put its landmarked townhouse up for sale for $59.9 million. It sold this past February for $31 million.