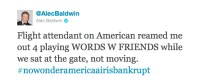 Although he may be insufferably rude to flight attendants and his new college-aged neighbors, Alec Baldwin certainly has a way of courting certain contingencies. No, we're not talking about the masses of sad sack 30 Rock fans who hang on Jack Donaghy's every witticism, but rather a distinctly uptown set who are after Mr. Baldwin's non-acting assets, primarily in the form of his El Dorado apartment.
City records show the three-bedroom, 3.5 bath place just sold. Hitting the market in August, the property went for $9.5 million, precisely the asking price. The place was purchased by a Christina McInerney whose own pedigree The Observer is currently trying to parse.
Mr. Baldwin recently left his vaunted Central Park home behind to join the rest of the dirty old men downtown.
eknutsen@observer.com