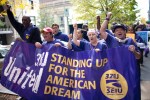 The office cleaners of 32BJ SEIU are unveiling their first ever television ad buy as their contract deadline approaches.
The ad, set to air on majo cable television stations in the region, shows a handful of man on the street style interviewees discussing whether or not it is possible to raise a family on $47,000 a year.
That figure is the salary that the city's 22,000 unionized office workers make in year. The union and its supporters have noted that building owners are asking them to take a cut even as the city's commercial real estate market has boomed.
If a deal is not reached by January 1, the union is preparing to go on strike, which would affect some 1,500 buildings in the metro area.
The full ad can be seen below: