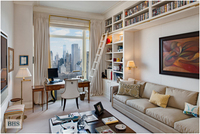 Any other day, a $24 million sale at 15 Central Park West would have turned a few heads. Well, late last week a unit on the 31st floor did sell for precisely that amount but it was looked over as the general public and real estate pundits watched, mouths agape (and salivating), as the building's $88 million penthouse went into contract.
But let's wipe the glitter from our eyes, New York! Shake that jaded Russian real estate hangover!  This is a $24 million sale in the post-Lehman era—nothing to thumb one's nose at, even if it is in a building where such deals have come to be expected.
George Logothetis, a shipping magnate turned financier, and his wife Nitzia have sold their three-bedroom, four-bath place in the building. According to records on StreetEasy, the couple bought the place back in 2008 for $12.93 million, but re-listed it last march for $28 million. While they ultimately settled on the $24 million sale, they nearly doubled their initial investment. Welcome to the club!
According to a listing from Brown Harris Stevens broker Paula Del Nunzio, the precious home was worth every pretty penny. "This magnificent residence is comprised of approximately 3,200 square feet and has been expertly upgraded to provide its owners with a true sense of luxury accomplished with great style," she writes in her listing. Magnificent! Expert! Luxury! Style! Ah, to live the 15 CPW life!
The Logothetises have been around the block more than a few times, if you know what we mean. In 2006 they bought a $13 million condo at the Park Millenium which they sold the following year for $15.1 million the next year. This past February the couple purchased the a townhouse at 13 East 94th Street for $12.5 million, once home to a Rockefeller. Yet even if you add up what they've spent on real estate over the past five years it's still less than half what Dmitry Rybolovlev is paying for the 15 CPW penthouse!
eknutsen@observer.com