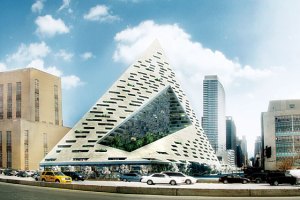 It may just be the most awaited project of the year, and by next year, it will begin to become a reality. West 57, the high-design ziggurat created by the cheeky Bjarke Ingels Group for Durst Fetner, is set to break ground as early as March. That is what Bjarke Ingels let slip at the ASAP party Monday night.
During a presentation of his playful projects—the plaza of many countries, the trash-to-power plant that blows smoke rings—atop the Standard, when Mr. Ingels got to the slides on West 57, he declared very excitedly, "Starting in March, this very exciting project will begin to take shape just a few miles from here."
A Durst spokesman confirmed the timeline for the project, though he said excavation work might not start until early April. That is also when the Dursts expect to begin the public review process for the pointy property. The hope is, once that is completed, so will be the foundations, which are currently being made for an as-of-right building but will also be able to accommodate the new, cutting edge design.
That way, should the new project be approved, all will be ready to rise sometime next fall. The developers have not yet sought financing, but that has not stopped them before—they purchased 1212 Fifth with cash, as well as the site for their 31st Street hotel. Meanwhile, further up 57th Street, Gary Barnett pulled a similar move, launching his similarly named and equally ambitious One57 before he secured a loan to finish it.
Big things going on that part of time.