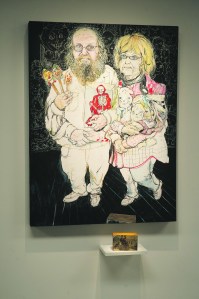 Paul Gauguin sailed all the way to French Polynesia to find his languidly exotic Tahitians. Swiss photographer Robert Frank drove straight across the U.S. to document the utter weirdness of The Americans. Diane Arbus plunged into the seedy underbelly of New York to bring back traces of its oddballs and freaks. Now, the art historians behind Bravo's reality gem Work of Art: The Next Great Artist have brought this time-tested trope of artist-as-pioneering-colonizer/anthropologist straight to your TV set. On last week's episode, Work of Art's scholars argued that to be a truly great artist, one must leave the comfort of one's Midtown West condo and vast studio space and venture out into the great unknown, to unveil the secrets of the "other" that inhabits the dangerous wilds beyond.
For their latest challenge, our contestants rode the treacherous Metro North rails for a harrowing hour and 10 minutes, to Cold Spring, N.Y. This is a historic village that the foolhardy refer to as a "weekend getaway" for Manhattanites, but which Bravo correctly identified as a paradigm of that alien, alarming thing known as small-town America. To succeed, the artists would have to dip into this dangerous otherworld, and emerge unscathed, brandishing a portrait. They would have to mingle with the eccentric Babbitt types they encountered along Main Street, without forgetting that as potentially great artists they firmly belonged to the New York establishment, and must neither take the country rubes seriously nor scare them off with their cultural superiority.  
Show host and Manhattan society princess China Chow (who hazarded a cameo in Cold Spring incognito, in a giant trench coat) commended the episode's winner on going "into their world," for presenting the common man and woman as no more or less common than they are. "I met them and they're cartoons!" Ms. Chow gleefully announced of the winner's sitters. It's "an American type come to life," critic and judge Jerry Saltz said of the prize-winning portrait. In short, this was a challenge in remaining aloof, in sketching the contours of an outlandish type of stranger, without getting too close, or delving too deep, before hopping the next train back to civilization.
EPISODE 9: In which we learned that when an artist ventures into the Henri Rousseau-ian wilderness of the non-N.Y.C. boondocks, he must retain the appropriate distance from his subject, crafting portraits that are neither too complex (for that would not match the simplicity of the indigenous peoples) nor too generic (for the small-town native is only of interest for its weirdness).
SUMMARY: The contestants headed out from Grand Central Terminal to Cold Spring, where they were presented with $200 with which to secure a portrait of one of the weird and wily locals in only two hours. This, the penultimate challenge, would be a double elimination, leaving only three contestants to move on to the season finale.
Contestant Kymia Nawabi latched onto Bob and Barbara, drawing a caricature of these oddball proprietors of a cramped shop specializing in dolls and other creepy ephemera. Young Sun Han, meanwhile, managed to tear himself away from the B&B's jacuzzi long enough to commission a portrait from Terence Donovan, the resident creative, whom Mr. Han photographed in the act of painting, juxtaposing his uninteresting extreme-close-up photos with Mr. Donovan's stylish artwork for the gallery show.
Lola Thompson fell in with a pair of rare-currency collectors, whom she depicted in a quite lovely abstract pastiche composed of collaged bills, text and other relevant detritus. Dusty Mitchell, on the other hand, went the route of Chuck Close with the munchies, crafting a paint-by-numbers homage to a cute little girl out of M&Ms. In the meantime, Sara Jimenez was busy batting her eyelashes at firemen, one of whom she decided to portray in a back-lit aluminum portrait, which was paired with some ugly, dangly nameplates.
Ms. Nawabi won, which doesn't mean much at this point, except that she'll be headed to next week's finale along with Mr. Han and Ms. Jimenez. The tearful Mr. Mitchell and Ms. Thompson, meanwhile, were shown the door.
LESSON: "I like art to be accessible. I don't want to make it either too personal or too confusing, where a viewer can't have access to it," Mr. Mitchell, who likened Cold Spring to his quaint Arkansas hometown, explained to The Observer after the ninth episode had aired. "The challenge, you know, was for a portrait. A portrait doesn't necessarily have to be laced with conceptuality."
And in so saying, Mr. Mitchell revealed the cause of his downfall. The viewer should never have total access to the "other" in an exotic portrait, even if the "other" in this case was a lovely little girl—in Mr. Mitchell's words, "such a bubbly kid." For never forget, some day she will grow up to be an eccentric Amy Sherman-Palladino dramedy-ready character just like her mother (who named her Mairead, for goodness's sake). Art snobs cannot empathize with such folksy folks and still maintain their pretensions, so Mr. Mitchell should stop trying to ply them with candy.
On the other end of the conceptual spectrum, meanwhile, was Ms. Thompson, who explained, "I stand by what I made" even if "the reality television format doesn't necessarily lend itself to being able to talk about work that's kind of complicated." She affirmed that she didn't want to make a caricature of the coin collectors, Dennis and Tommy, who, unfortunately enough for her chances of winning, "weren't surrounded by, like, weird kitschy objects; they didn't have that going for them."
Rather, "they were smart intellectual guys who were nerdy and into history," she said. "I think a portrait of what they're obsessed with and what their life work is about is appropriate." And that is why her nonfigurative, composite portrait did not make them seem zany or strange at all. It was just an interesting, complex, aesthetically appealing artwork; it didn't let us condescendingly admire the eccentricities of bubbly shopkeepers, ruddy firemen or amateur painters.
CONCLUSION: They don't let you into the Great Artist Canon until you've turned a sardonic, haughty or at least clinically anthropological gaze on a few out-of-towners. So the sooner Mr. Mitchell starts mocking children rather than having them (his wife's pregnant again, mazel tov!) and Lola stops confessing to us that she wishes she seemed less bitchy on TV (who likes watching programs about nice girls?), the sooner the doors of the reality-TV-art-world Pantheon shall swing open before them.
editorial@observer.com