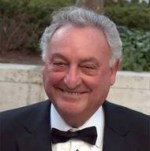 Brooklyn boy Sandy Weill, the former CEO of Citigroup, made waves when he put his full-floor 15CPW home on the market for $88 million. In a highly publicized (and carefully calculated) PR move, however, he quickly announced that proceeds of the sale would in fact go to charity. Well, it looks like some hospital or synagogue is about to be rolling in some serious dough, as Mr. Weill has found a buyer, the Post reports.
An agreement has been reached for the sale, and unsurprisingly the buyer is reportedly foreign. We suspect either a wealthy Chinese businessman or some shipping titan trying to get his assets the Helios out of Greece.
While a whole array of photos were originally posted along with Kyle Blackmon's listing on the Brown Harris Stevens website, all but one of the images have since been taken down. The floor plan proudly remains, however, depicting the condo's mouthwatering layout.
We hope the elliptical bedroom comes with a rotating bed.
eknutsen@observer.com