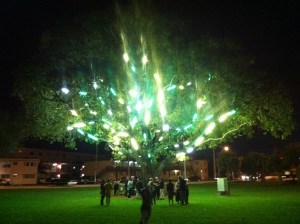 Happy 10th, ABMB
Art Basel Miami Beach turned 10 this year. There is a lot of getting swept up in things at the fair and its ancillary activities—its many, many, many ancillary activities, like so many barnacles on a whale that the whale lists to the side, from satellite fairs to parties sponsored by Champagne companies and fashion companies and car companies.What can get lost in the shuffle is that there is still very good art to be seen in the convention center. Take the paintings by 79-year-old Joan Semmel at the booth of New York dealer Alexander Gray. There were Ms. Semmel's sexy paintings from the early '70s showing couples in flagrante and depicted from, as she will tell you, a woman's perspective—which was a racier thing back then—and then there was the unflinching nude self-portrait she made just this year. Art Basel celebrated its birthday later in the week, with a series of performances co-organized with the Performa biennial. One was a comedy show. Reggie Watts, with voluminous Afro, took the stage. "Why does it have to be Your-ami?" he asked. Tell that to the bevy of car company-sponsored parties. —Sarah Douglas
Smoke, Strippers, Salem, Courtesy the Hole Gallery
On Wednesday night we saw the reliably dark and gothic band Salem, an art-world favorite in recent years, play outside at the Delano Hotel's pool in Miami Beach, a party organized by former Deitch director Kathy Grayson's Bowery gallery, the Hole. White smoke billowed across the stage as the band entered. Then two women in bikinis and heels arrived, and positioned themselves precariously close to the edge of the pool.
As a breeze picked up, the smell of marijuana passed through the crowd. And then the music started—crisp drum-machine clicks caterwauling one over another, piercing through thick waves of distorted, fuzzy drones. The women grabbed the pool's poles and swung in place, shaking to the beat. The crowd, sitting on large white beds along the pools, reached for their cameras.
A while back, The New York Times declared one Salem show "the kind of performance that you have seen only in your worst dreams." Wednesday night was also nightmarish, but sublimely so, the band's woozy, drug-addled electronic-cut hip-hop befitting the middle of a week of frenetic Basel excess. Whatever live-performance problems they once had are now gone.
"First I tie your hands and feet," lead singer Jack Donoghue rapped on "Sick," sounding like a drug-addled Rick Ross trying to tread through swirling Cocteau Twins-style synths. "Shhh … / Don't make a peep." The women had by now shed their tops and fully entered the water. Across the pool, one gentleman waded in, beckoning for a lap dance. He got it.
Over on our side, a handful of guests—mostly women—slipped bills under the straps of one dancer's bikini, as she slowly slinked down half the length of the pool, posing for photos, caressing herself. She moved toward the center, joining the other dancer and they writhed together in the water. Marina Abramovic's recent Los Angeles MoCA gala-as-performance-artwork suddenly felt very quaint. —Andrew Russeth
Bringing Sexy Back
Here is something that should have worked and did: a portion of hedge funder Adam Sender's art collection was installed in a house that he has vacated and is trying to sell. (Mr. Sender and his family now live down the block.) There were clever moments in the show: what had clearly been his young daughter's room—the pink wallpaper was telling—had been infiltrated by a bunch of R-, or perhaps even X-rated artworks: a bejeweled-looking Raqib Shaw painting of a strange mythological figure gripping its serpentine phallus, a terrific Glenn Ligon text painting where the first line of text alluded to a certain group's having "the biggest dicks in the world." The house had other surprises that depended on its architecture for effect: a child's shoe made of wax by Robert Gober perched in a cubbyhole; a rooster made of cigarettes by Sarah Lucas perched in a shower stall. The highlight of the installation was a group of wax figures by Urs Fischer that were set alight at their wicks and left to burn. These were positioned just inside the door of the home, an indication, right away, that things would be hot in here. —SD