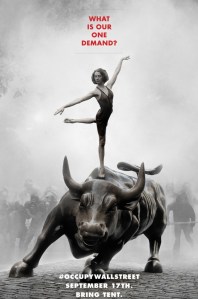 Kalle Lasn, the publisher of Adbusters magazine who was recently profiled in The New Yorker, has gotten a book deal with independent publisher Seven Stories. As reported in Publishers Marketplace, the book will be called Occupy Econ 101 and "is designed as a textbook of the future that articulates what could be the next steps in rethinking and remaking our world with a new economic paradigm." The book will include contributions by Joseph Stiglitz and other economists, including "the father of ecological economics" Herman Daly.
The Occupy Wall Street slogan was first published in a poster designed by Adbusters, and the day it began, September 17, is the birthday of Mr. Lasn's mother.
This book deal follows book deals for Columbia University professor Todd Gitlin and anthropologist David Graeber. Little, Brown also just signed an Occupy anthology, The Occupy Handbook, edited by Janet Byrne and including contributions from Paul Krugman and Robin Wells, Michael Lewis, Robert Reich, Nouriel Roubini, Robert Shiller, Barbara Ehrenreich, and Bethany McLean, among others.