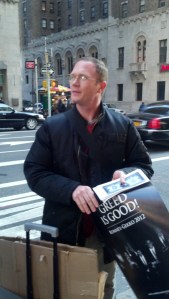 Prior to Mitt Romney's fundraiser at the Waldorf Astoria this afternoon, the liberal group MoveOn sent out emails announcing their intention to meet Mr. Romney with "dozens of activists" shortly after 1 p.m. MoveOn's missive promised the "great visuals" of this cadre of demonstrators carrying signs bearing the slogan "Greed Is Good" alongside the infamous picture of Mr. Romney and his former colleagues at the consulting firm Bain Capital playing with dollar bills. When Politicker arrived outside the Waldorf at the appointed hour, we didn't spot a single anti-Romney protester.
After circling around the back of the hotel, we saw a man carrying a stack of the "Greed Is Good" signs. He identified himself as Jamie Kemmerer.
"I'm kind of in charge of it, but it's very last minute," Mr. Kemmerer said of the protest. "You kind of never know how many people are going to show up to these things."
Mr. Kemmerer said he had two main objections to Mr. Romney, who's currently slipped to second place in Republican primary polls behind Newt Gingrich.
"One would probably be the cavalier way in Iowa he said corporations are people and the second thing would be, he made a boatload of money outsourcing jobs," Mr. Kemmerer said.
As we spoke to Mr. Kemmerer, he was approached by Heather Hauswirth, a reporter from Bloomberg TV and another photographer.
"You the only one?" Ms. Hauswirth asked.
Mr. Kemmerer confirmed that he hadn't seen any of his supposed fellow protesters.
"Can I film your sign?" Ms. Haswirth asked him. "Can you hold it up for me?"
"I do have awesome Romney $10,000 bills if you want a shot of those," Mr. Kemmerer said proffering a stack of faux cash referencing the ill-received moment from the most recent debate when Mr. Romney jokingly challenged his opponent, Rick Perry, to a $10,000 bet.
After obliging another reporter's request that he toss the fake bills in the air, Mr. Kemmerer walked back to the main entrance of the hotel in search of his compatriots. He ended up joining with a group of approximately eight other protesters. The middle-aged protesters, who carried signs reading "99%,"were encircled by a group of ten reporters.
"Don't cut teachers, don't cut cops, collect the taxes from the top," one of the protesters chanted.
Mr. Romney was already inside the building. He made his way in slightly earlier than announced in a likely attempt to avoid the demonstrators and press assembled outside. Over the course of the campaign, Mr. Romney has earned a reputation for evading the media. At Mr. Romney's last Waldorf fundraiser last month, we were shoved aside from his SUV as we attempted to ask him a question. This time around, things weren't much different.
After watching the protests for a few more minutes, we made our way inside the the hotel and across the lobby toward Oscar's at the Waldorf, the restaurant where the fundraiser was taking place. Inside a pair of tall glass doors, we spotted a crowd mostly made up of men in dark suits packed shoulder-to-shoulder. As we lingered in the doorway, a security guard for the hotel informed us that press had to wait outside.
On the curb, a police car rolled up alongside us at about 2:30 p.m.
"Do you have any business at the hotel?" one of the officers asked.
We offered up our business card and informed him we were staking out Mr. Romney's fundraiser.
"That's fine, that's not a problem," the office said before driving off.
Moments afterward, guests began streaming from the building. A woman discussed Mr. Romney's speech with a male companion.
"When he said, 'I ran a company, I saved the Olympics,' that's all you have to say," she said.
"Nobody cares about flip-flopping, they all do it," her friend responded.
As the crowd thinned, we saw Mr. Romney being ushered from Oscar's and out toward the exit on the other side of the hotel. We ran around the building, but when we got back to the main entrance there was no sign of Mr. Romney–or the protesters.