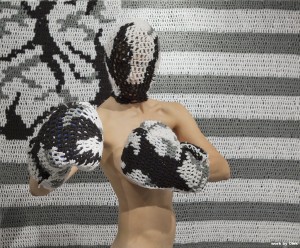 The crochet artist Agata Olek is in legal trouble over in England and has made an appeal to her fans for money to help her out. Thanks to Bowery Boogie for calling our attention to this web site, Olekappeal.com.
The details of the situation are quite vague, but here is her statement that has been approved by her attorney.
"Olek recently arrived in London in order to fulfill a variety of professional engagements; the first of which was to donate a piece of art work to a charitable organization. On October 6th after donating a piece of her art to the charity at a show in London, Olek was involved in an incident with a drunk and aggressive male who behaved reprehensibly.

"The incident happened extremely quickly and not knowing anyone in London or able to access her cell phone for numbers she was swept up into the legal system and treated very poorly. This has resulted in very serious charges being leveled against her which she strenuously denies. She has not even had the chance to state her case before a Court and she must await a statutory timetable before she can present her case properly.

"She has now been fortunate enough to be referred on to an appropriate lawyer to defend her against these entirely false allegations, but effective legal representation in cases like this comes at a cost. Today, she needs your help to assist her to get through this terrible and unfair ordeal. At the moment she is facing serious charges with a risk of custody if she is not represented properly and able to expose the untruths and falsehoods in the allegations made against her."
It sounds a little like something out of The Trial. She was under house arrest for a month and had to wear an ankle bracelet. She is currently worried that she will run out of funds to pay her legal counsel. She's set up a PayPal account in which you can donate $1 or up to $10,000 in exchange for her artwork. If you donate $10,000, you'll get an original commissioned piece.