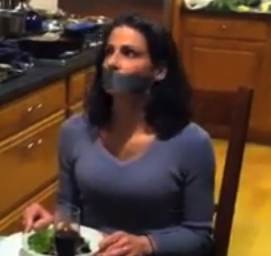 Nicole Katz, wife of Assemblyman Steve Katz, has made a video protesting being banned from State Senator Greg Ball's Facebook page. Ms. Katz told The Politicker she was banned from Senator Ball's page December 8 after posting a comment chastising him for criticizing Congressional Republicans. The video, entitled "Delete this, Greg Ball," stars Ms. Katz in a scary, suburban salad drama that ends with her mouth being duct taped shut.
Ms. Katz released her video on, where else, her Facebook page Sunday morning.
"Day #11 of banishment from Senator Greg Ball's facebook page. Today, a video for you! Turn your speakers all the way up, the volume is low," Ms. Katz wrote.
In the past, the Katz's supported Senator Ball, including donating $3,000 to his Senate campaign last year. On the day after she was banned, Ms. Katz explained why the Facebook flap bothered her so much.
"I would say that it's rather important as an elected official that he ecncourage free speech," said Ms. Katz. "Facebook is a forum for free ideas."
Ms. Katz's video features her friend, Robin, serving her salad. All of the people sitting around the table compliment her cooking except Ms. Katz.
"This is great Robin, just one thing, I don't like black olives, I really prefer green olives," Ms. Katz says.
Robin responds by shutting Ms. Katz's mouth with a piece of duct tape.
"How do you like my salad now Nicole?" Robin asks as Ms. Katz stares incredulously at the camera.
The clip ends with text that reads, "To silence criticism is to silence freedom."
Watch the harrowing video below.