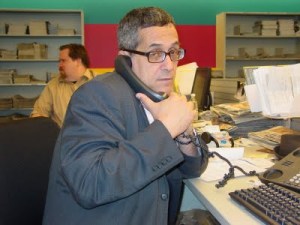 It looks like there is some competition on the Barnes and Noble shelves for pride of Atlantic Yards place. Norman Oder has been hard at work on a book about the Brooklyn megaproject for the past year, but now his chief rival has thrown his pen into the ring.
According to the Daily News, Steve Witt is working on a roman a clef lampooning the development saga—as if the truth weren't already stranger than fiction. Mr. Witt calls his take "gonzo," but for critics like Mr. Oder, who calls him "the notorious Steve Witt," might find it strange that he has chosen not to play the story straight.
The book follows a flat-broke subway musician who stumbles into contact with a high-powered developer named Thaddeus Hoover – a thinly veiled take on developer Bruce Ratner.

He ends up playing project supporters and opponents off against each other as he plots to get a hip hop song he's written to a rapper dubbed Zack-J, based on Nets minority owner Jay-Z.

Witt said he found the project's twists and turns better suited to an off the wall fictional take than a scholarly account. The story unfolds over six months leading up to the groundbreaking for the new Nets arena, but takes some artistic liberties. "It's definitely a gonzo telling of it," Witt said.
Who needs facts when you've got a great story?