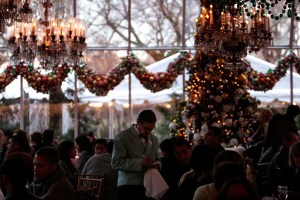 The Parks Department has left a bad taste in the city's mouth—and its coffers.
Yesterday, Comptroller John Liu announced that Parks lost the city $8.8 million by poorly managing concessions and vendors, according to a new audit from the comptroller's office.
No, overpriced  bottles of lukewarm hose water are not to blame, but rather lack of competition for vending licenses and, particularly, the closing of Tavern on the Green.
Officials believe New York has lost upwards of $3.7 million in sales taxes since the beloved Tavern shut its doors in 2009. That's a lot Baked Alaska. In addition to sales taxes, the comptroller estimated that 500 jobs have been lost in the wake of the Tavern's closing, and another $2.2 million in revenue.
On the whole, revenues from concessions have been sliding over the past few years, the press release said, from $52.6 million in 2008 to $39.8 million in 2010. What, is no one eating cotton candy anymore?
Update: The Parks department disagrees with the audit's findings, claiming that the comptroller's definition of "foregone revenue" is flawed. The so-called lost revenue was the result of careful decision making, and that defining the success on finances alone is dangerous.
In its insistence on generating revenue at any cost, this report would have Parks, as the guardian of important City assets, ignore legal obligations and ongoing court proceedings in favor of current revenue, or forego opportunities to obtain large-scale capital investments which result in greater long term income and expanded amenities to the public.