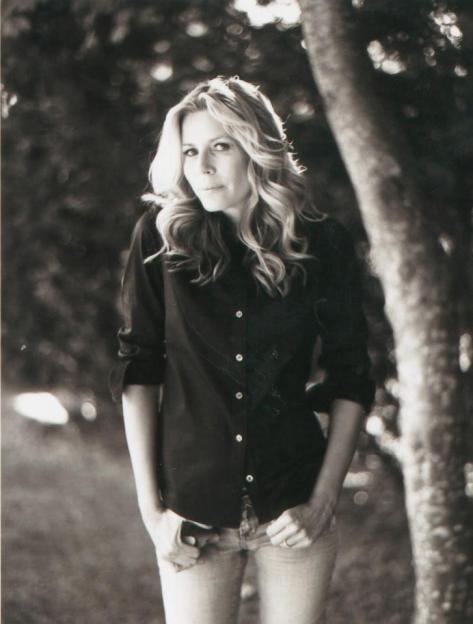 Update 4/5/12: Aviva Drescher has been announced as one of the new additions to The Real Housewives on New York City, Season Five.
Tucked into a back table at the Upper East Side pastry and panini shop Via Quadronno for brunch last Monday, Aviva Drescher, the 5 foot 10 inch, flaxen blond, part-time socialite, full-time mom and rumored new addition to the cast of Bravo's Real Housewives of New York City, told us the story of how she lost her leg in a horrifying farm accident upstate at age six.
"It was a genius idea to go ride a conveyor belt in a barn that was meant to remove cow manure," Ms. Drescher said, rolling her eyes.
Along with a black pencil skirt from Dolce and Gabbana paired with a burgundy bow blouse and cashmere sweater vest by Gucci, Ms. Drescher was sporting a pair of thigh-high black boots. She always wears thigh-high boots.
The initial amputation was not the ideal surgery, she recalled. "The problem was, as a child, they only amputated several inches above ankle, so the amputation was very awkward. I'd get abrasions all the time. I constantly had infections." At 26, Ms. Drescher underwent elective surgery to remove more of the leg, which gave her more skin and padding.
She told the story casually, with self-depreciating wit—eager to make us comfortable and to dispel any tiny violins that might launch into an overture.
"When I was growing, I'd have to get a new prosthesis every six months," Mrs. Drescher noted as the waiter placed a ham and cheese panini in front of her. Ms. Drescher, who has a MILF-ish air (though she insisted she had never modeled, no matter what the papers have said), daintily bit her crust and swallowed.
That easy smile, the warm demeanor, the natural complexion (no "work" needed, or so it appeared), the ham and cheese sandwich…wait a minute. The gossip mill was clearly off-base: there was simply no way this congenial UES mom could ever be a Real Housewife. No crazy eyes? No berating the wait staff? Although Ms. Drescher's name has been bandied about since September as a top candidate for the program's "Wall Street Wife," The New York Observer was, within minutes of meeting her, secure in the knowledge that there'd been a mistake.
The woman sitting across from us was clearly not going to be on the show. Which would explain why Andy Cohen, producer of The Real Housewives franchise, replied to our point-blank question about Ms. Drescher's supposed casting last week by saying, "There have been no official confirmations." And why one of Bravo's producers, when asked about Ms. Drescher's involvement with the show, emailed us, "We haven't made any announcements regarding new ladies at this time."
We thought they were just being coy. But this woman was just too nice, too sane, too normal to get the gig.
It seems there is some other very reasonable explanation for why the non-socialite—who as of October 1 had only had 22 pictures of herself on the website of New York event photographer Patrick McMullan—suddenly had 14 new images. They came from a single event, and also included Housewives Ramona Singer, Countess Luann de Lesseps, and Carole Radziwill, another much rumored addition. Same for the recent paparazzi pictures showing Ms. Drescher being trailed by a camera crew with Real Housewives co-stars Sonja Morgan and Ms. Singer while they tried on bikinis near Ms. Drescher's father's home in Miami. (Ms. Drescher looked on nonchalantly in a sarong.)
We mean, who doesn't cross paths with the Housewives and their film crew now and then? That doesn't prove anything.
The more compelling reason that Ms. Drescher will definitely, 100 percent not be on Housewives next season is that she's way too even-keeled. She's even has good things to say about her ex, Harry Dubin, despite reports in Page Six years ago of their acrimonious divorce.
"Harry and I get along really well in terms of parenting together," said Ms. Drescher, who has a 10-year-old son, Harrison, with the former real estate mogul. Their marriage ended in 2005, only days after news of Mr. Dubin's brother Louis separating from Tiffany Dubin, with whose step-father he had partnered to create Athena Group. Mr. Dubin had worked for his brother at Athena, and when Louis' marriage began to implode, so did Mr. Dubin's own household.
"He's been more consistent recently," Ms. Drescher said of her ex, "because he has this fabulous new girlfriend." She was not being sarcastic! Sorry, but as a Real Housewives-style "confessional" moments go, that seemed a bit flat, a bit reasonable. Where is the backstabbing? The underminey snark or outright bitchery?