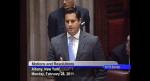 When John Boehner held his big news conference to press President Obama to call the Senate back in session–and to announce that, in essence, the deal to extend the payroll tax cut was over–standing right beside him was Hudson Valley Congresswoman Nan Hayworth.
This morning State Senator Greg Ball–who is, like Ms. Hayworth, a Republican–sent out a statement blasting for leaving her constituents with a lump of coal.
The release does not mention Ms. Hayworth by name, but it leaves little doubt who Mr. Ball is talking about. It is titled, "Thanks for The Coal, Congresswoman" and in a statement Mr. Ball says:
They had everything they wanted in a deal handed to them with white gloves and a silver platter, yet still found a way to not support this critical tax cut for struggling families. Let me join the thousands of blue collar families who will be thanking our ultra-wealthy Congresswoman for the coal this Christmas. From a political perspective, I appreciate their efforts to extend these measures for a full year, but a two-month extension is an immediate necessity and one that should not be aborted due to dogma or political ideology. Along with some of her colleagues, the Congresswoman seems to be completely out of touch with working families and struggling small businesses. Ensuring that blue-collar families can rely on a tax cut in a time when so many families are feeling the ravages of a hemorrhaging economy is the right thing to do regardless of how the politics play out in the next election.
The Politicker asked Mr. Ball's spokeswoman if this meant he was intending to run for Congress. She said he plans to run for re-election to the State Senate. Ms. Hayworth is already fending off two Democratic challengers, Matt Alexander, the mayor of Wappingers Falls, and Rich Becker, a Westchester County legislator.