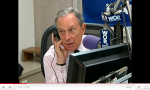 On his weekly radio show this morning, Mayor Michael Bloomberg described how Cornell University surprised nearly everyone to be named the winner of the city's competition to build a new high-tech engineering campus in New York.
The mayor acknowledged that, "I don't think anybody thought they would be the winner. It's just not the political zeitgeist." Indeed, as our own Nitasha Tiku wrote in The Observer this week, most people in the tech world assumed that the winner would be Stanford, based if nothing else on their reputation for developing tech companies like Google.
"Cornell's bid was really phenomenally well-put together," the mayor told hold John Gambling. "I got a kick out of it. Friday, when Stanford withdrew, and we spent trying to paper the deal–we actually have contracts with performance things. They have to have X number of students and Y number of teachers and z number of square feet by this date and that date and there are real penalties if not.  We are putting$100 million of city money in. It's not just a maybe.  Some of the others said, 'Well, we are not sure,' and you can't run a railroad that way."
As Nitasha found, Stanford and some of the other schools did in fact get cold feet when they realized that the contract seemed unusually strict and the penalties overly severe.
The mayor praised for Cornell for already having a video rendering of what the campus could look like when the deal was announced Monday morning, and said that the $350 million that they were just given shows that the university knows how to raise money.
And Mr. Bloomberg added that although Stanford is well-known as being a hub for social media, the high-tech campus won't just be about social media.
"When you are talking about technology it's not just social media. That is what everybody is thinking it is, but it's bio-tech, it's a whole bunch of things," he said. "And Cornell on the medical side and Technion on the technical side make a great partnership."
The mayor also said that remained optimistic that other schools like NYU, Columbia and Carnegie Mellon would have their bids for a smaller engineering campus accepted in the coming weeks.